Kittens
Submitted by

valheru

on Fri, 2022-10-28 16:49
Na het overlijden van Muis werd het na een tijdje natuurlijk tijd voor een nieuwe kat.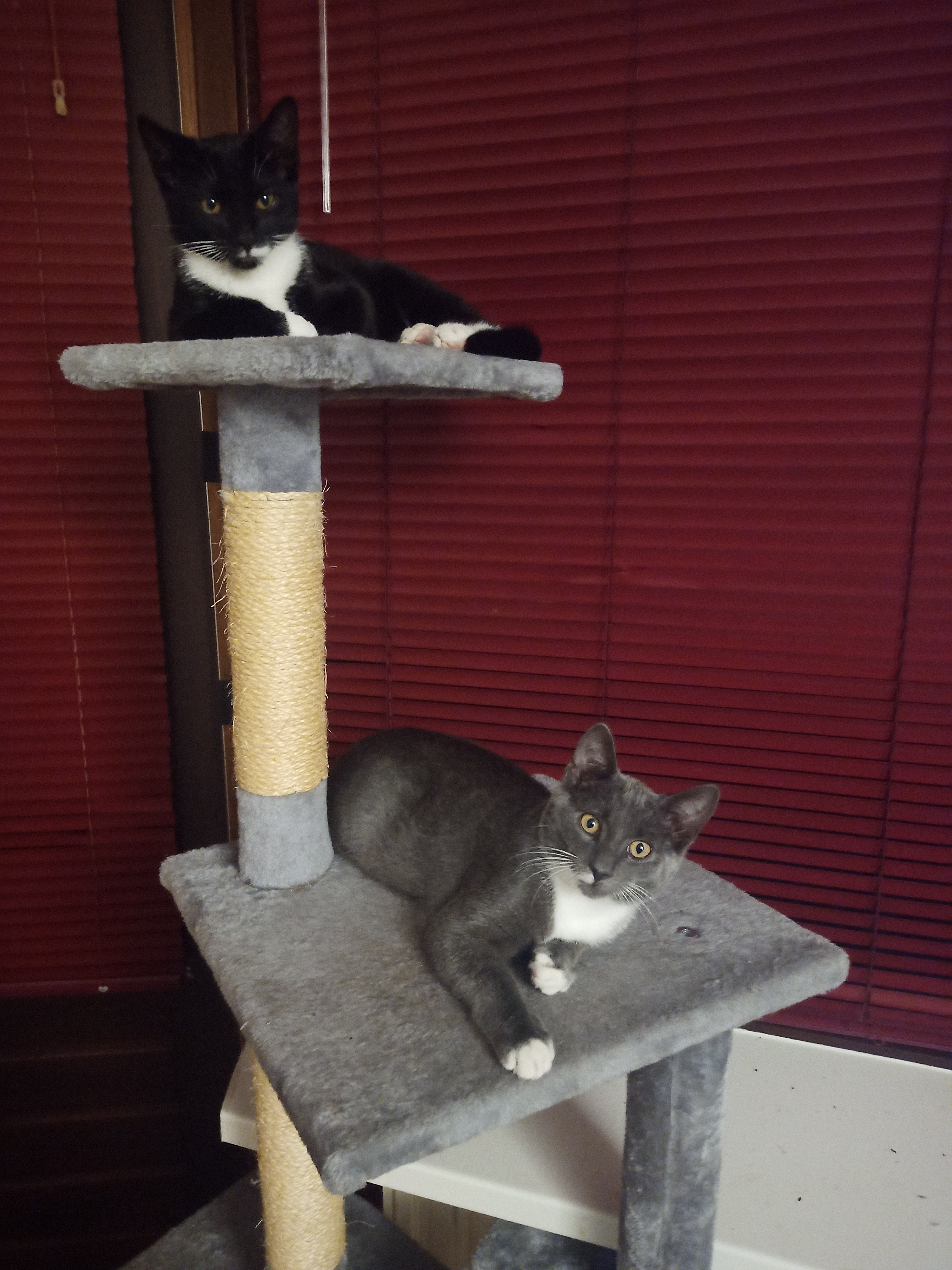 Helaas ging dit niet zo soepel als ik graag wou, ik had bedacht dat ik beter geen kittens kon nemen i.v.m. mijn werk en dat ik dus op zoek moest naar liefst twee volwassen poezen of katten die goed met elkaar konden, niet mensenschuw waren en met Kyuubi overweg moesten kunnen.
Ik ben dus gaan kijken wat het lokale asiel te bieden had. In het verleden heb ik hier al meerdere katten vandaan gehaald en was dit nooit een probleem, echter sinds Covid moet je een aanvraag voor een kennismaking doen, hierbij worden er veel vragen gesteld en gezegd dat als je geen antwoord krijgt je niet uitgeloot bent. Nou weet ik dat dit asiel constant op Facebook oproepen doet over dat ze zoveel lang zittende katten hebben en dat er te weinig mensen willen adopteren dus ik maakte mij hier geen zorgen over en heb hun formulier naar waarheid ingevuld. Ik kreeg geen antwoord.
Na wat spitten bij posts op Facebook en mijn formulier er naast houden zag ik dat dit hoogstwaarschijnlijk kwam omdat ik 4 dagen per week werk en de katten dan te veel alleen zouden zijn. Dit is nooit een probleem geweest voor mijn voorgaande katten, vooral omdat ik speciaal daarom er altijd twee had zodat ze gezelschap aan elkaar hadden. Ik las bij een van de posts van het asiel ook een vrouw die ook niet uitgeloot was en vragen was gaan stellen, zij kon geen kat nemen omdat ze geen auto had om de kat naar de dierenarts te brengen. De vrouw in kwestie vertelde dat ze tegenover het Dierenziekenhuis Groningen woonde wat 24/7 open was en ook nog lid was van de dierenambulance mocht er een noodgeval zijn. Het asiel vond echter dat een rijbewijs en auto noodzakelijk was.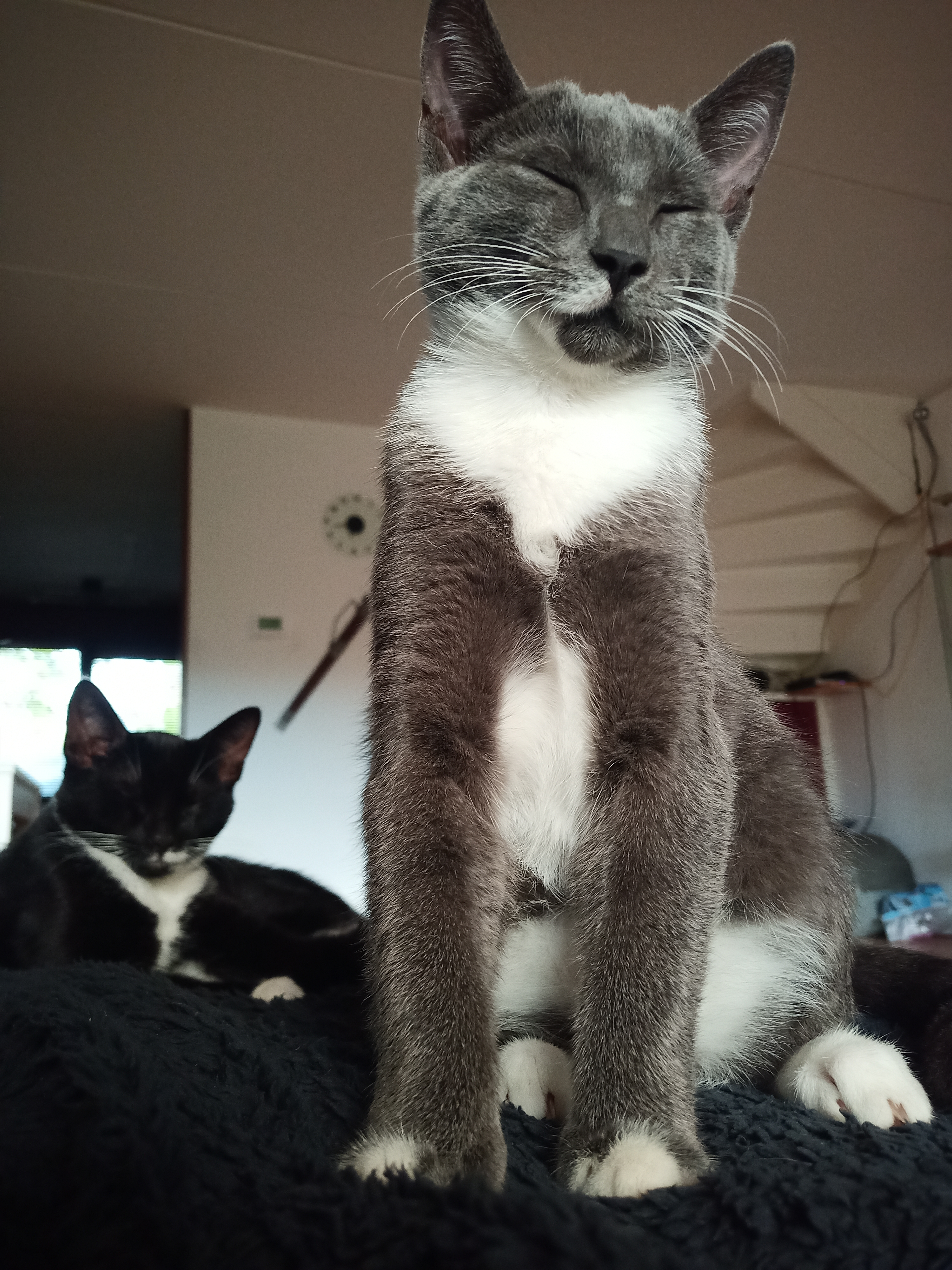 Ik vind dit heel jammer want ik had expres gereageerd op katten die al heel lang in het asiel zaten omdat die toch ook een huisje verdienen.
Dus ik ben daarna verder gaan zoeken, bij andere asiels, op Marktplaats, etc. Na wat missers en ook wel wat nare reacties op Marktplaats vond ik een advertentie van twee broertjes, dit waren praktisch nog wel kittens en ondanks mijn gedachte dat ik geen kittens wou ben ik toch gaan kijken. Hierbij hoorde ik dat aanbieder ze al 2 keer eerder op Marktplaats had gezet maar er toen geen goed gevoel bij had en ze er weer af had gehaald en dat bij poging 3 ik de eerste was die mocht komen kijken naar Otis en Ted zoals ze toen nog heette.
Ik was meteen verkocht, ze waren zo schattig. Dus ik heb ze direct meegenomen. Ik heb wel andere namen verzonnen, ze heten nu Loki (zwart-wit) en Fenrir (grijs-wit). Na 3 dagen waren ze hier redelijk gewend en nu komen ze me elke ochtend enthousiast begroeten waarbij Loki ook zeer vocaal is, hij geeft hele schattige, hoge mieuwtjes.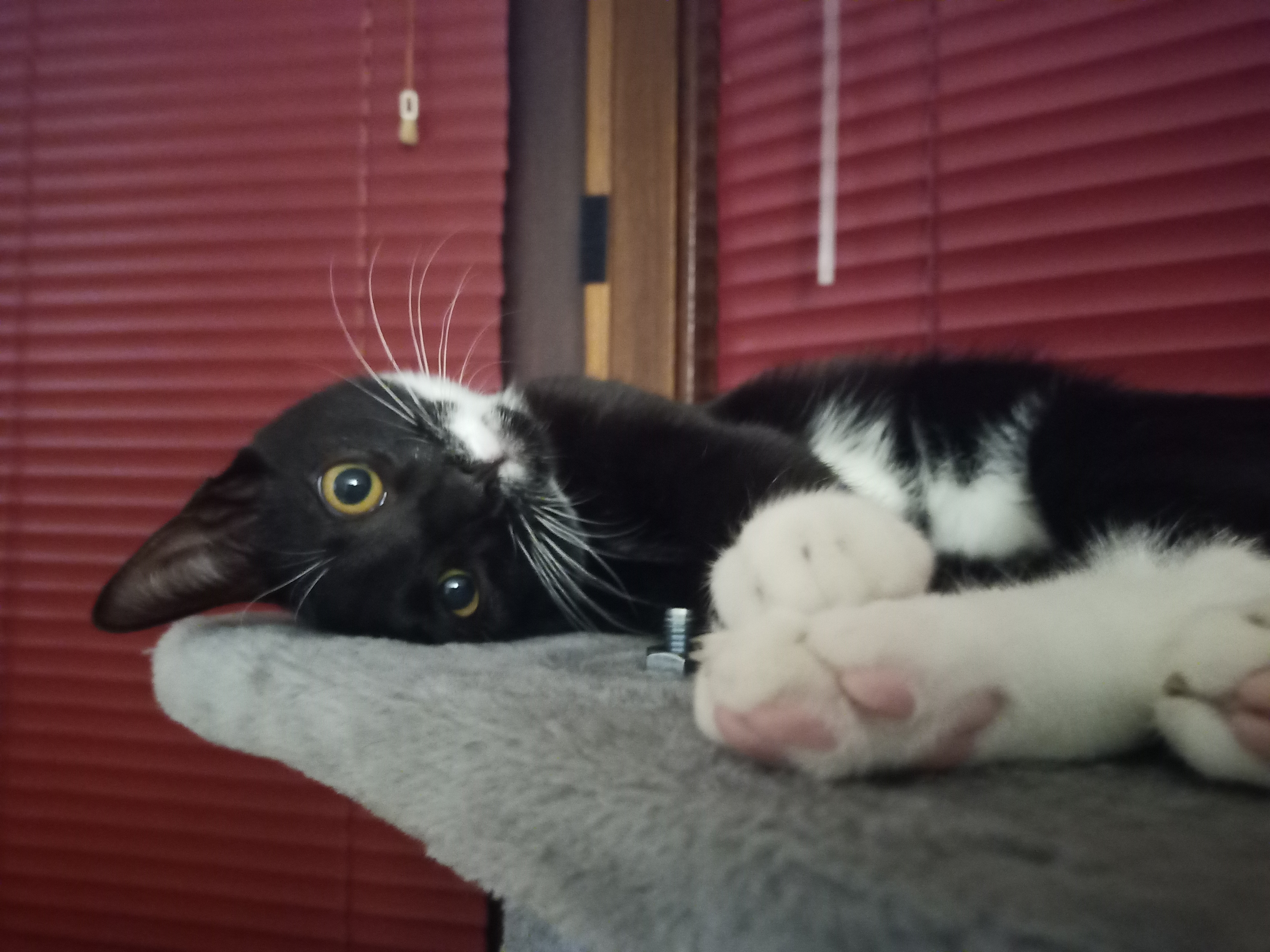 Eerlijkheidshalve moet ik ook vertellen dat het een stel donderstenen zijn, ik ben al 2 plantenpotten armer, mijn luxaflex gaan het ook niet lang overleven heb ik zo een vermoeden en de grote krabpaal die ik had is in 2 stukken gegaan, wat ik knap vind dat dat is Muis en Noobie nooit gelukt. Hij was al omgegaan, er kwam opeens een krabpaal op me af toen ik lekker ontspannen na een bad op de bank zat, weg ontspanning. Dus de volgende dag heb ik hem helemaal uit elkaar gehaald, weer helemaal in elkaar gezet en alles verstevigd waar dat kon. Ik zei vol trots, die houd het wel weer een half jaar. De dag daarop kwam ik de woonkamer in en lag hij in twee stukken. Ik lag helemaal in een deuk.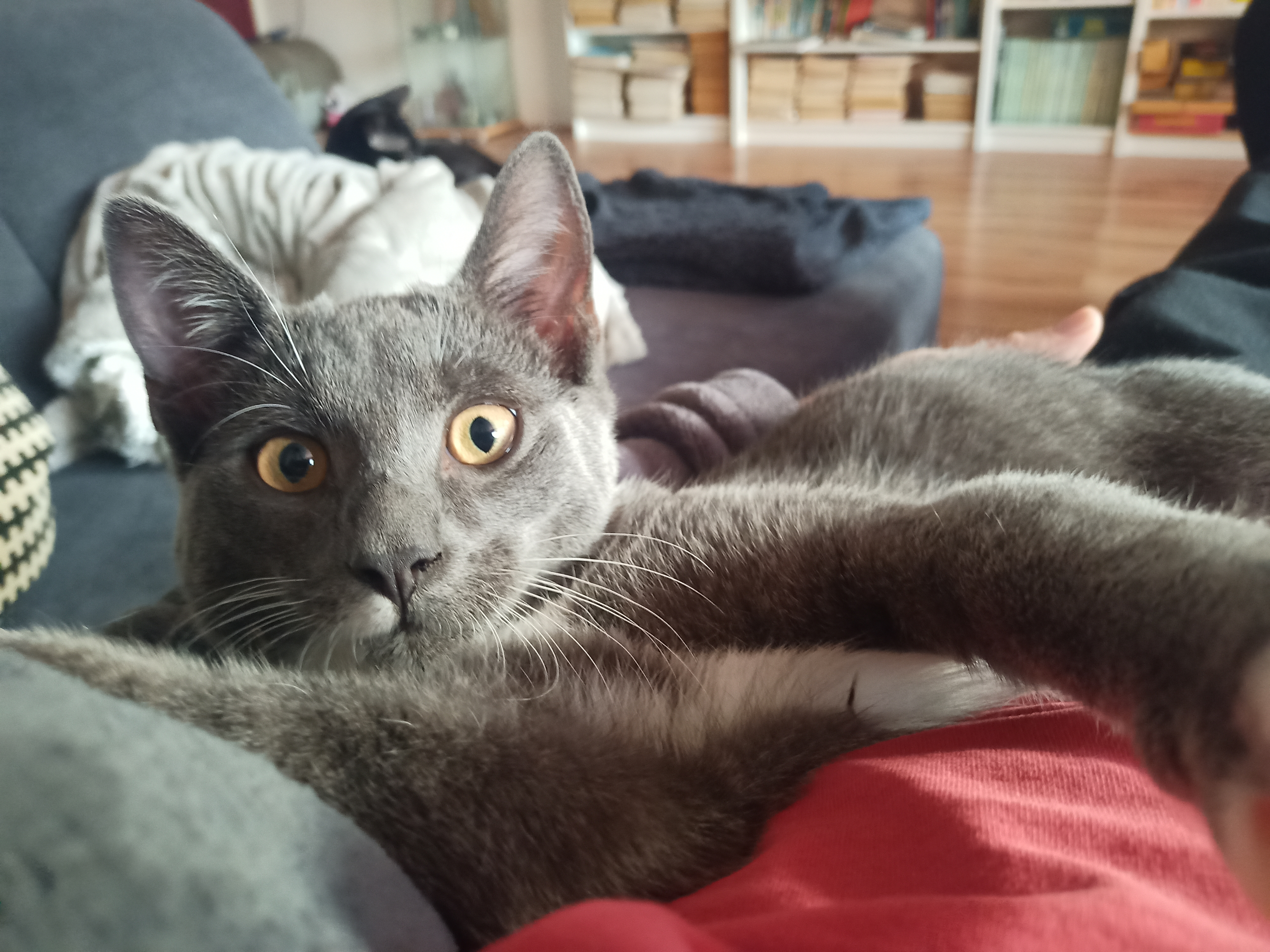 Zoals een oude vriendin van me al zei toen ze de namen hoorde: Norse mythology came to destroy your home?
Well, yes it did, it sure did. Maar ze zijn oh zo schattig, ik zou niet meer zonder ze willen.

Ze zijn op 19 mei geboren en op 5 september bij mij gekomen, ze zijn inmiddels al gechipt en binnenkort mogen ze gecastreerd worden, daarna mogen ze voorzichtig naar buiten, ik denk dat ze daarna ook wat minder sloperig zullen worden maar we zullen zien, hopelijk kan ik tegen die tijd weer planten in de vensterbank zetten.
Voorlopig heb ik in iede rgeval een levendig huishouden en 2 mooie katertjes waar ik hopelijk nog heel lang van kan genieten.