Nieuwe baan deel 2
Submitted by

valheru

on Sat, 2022-04-09 00:56
Zoals ik in mijn laatste blog schreef heb ik sinds een maand een nieuwe baan. Hiermee zijn er een hoop dingen veranderd voor mij,
Beweging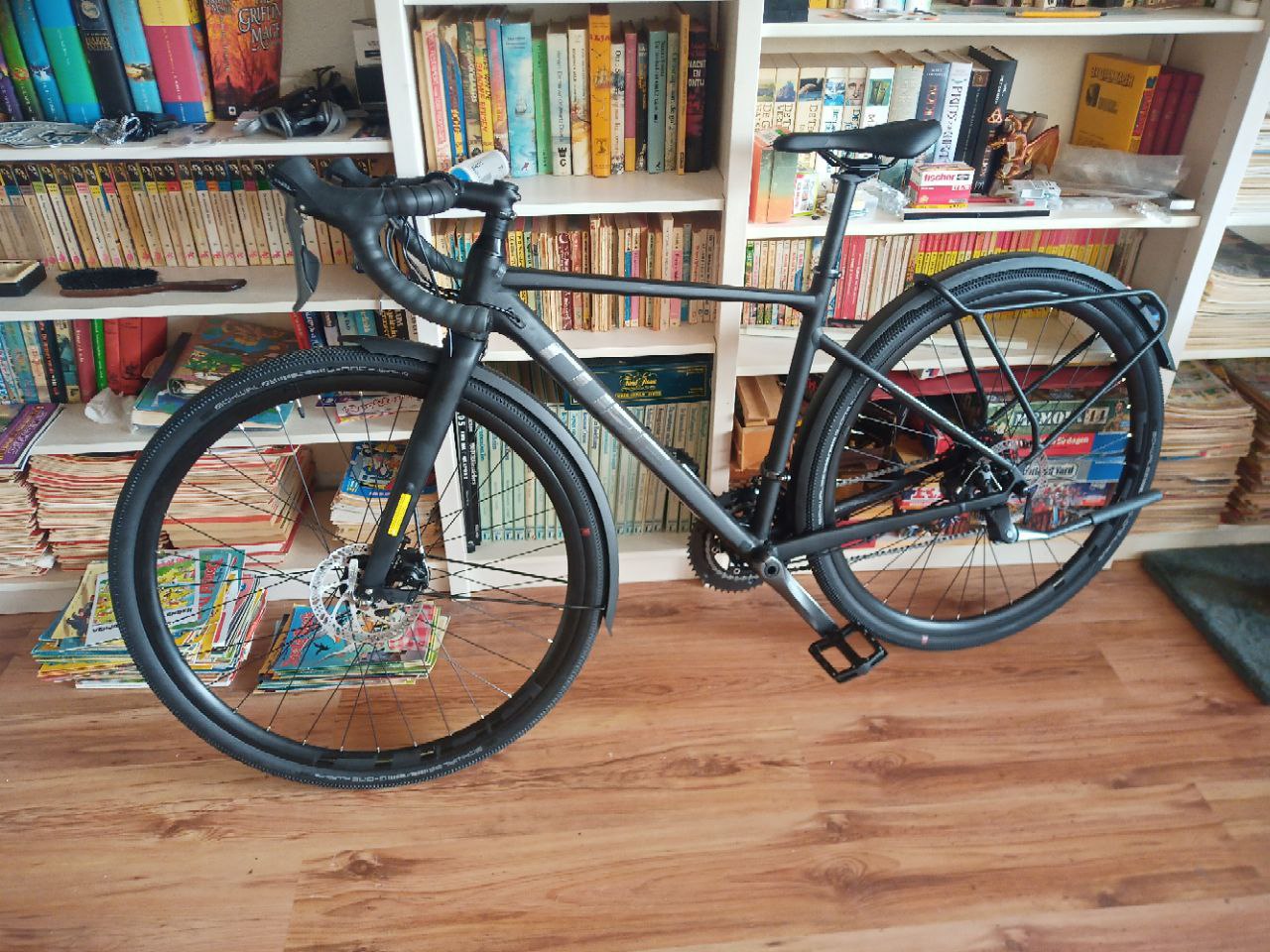 De grootste verandering is denk ik  wel de beweging die ik krijg. Ik heb effectief 6 jaar stil gezeten, altijd met de auto naar het werk en op het werk de hele tijd op dezelfde plek zitten. Dit heeft er natuurlijk toe geleid dat ik nu een conditie van niets heb.
Bij mijn nieuwe baan loop ik veel, dat had ik niet verwacht maar ik loop echt veel voor een kantoor baan, ik ben van ongeveer tweeduizend stappen per dag naar bijna tienduizend stappen gegaan. Dit is goed voor me, soms wel zwaar omdat ik weer conditie moet opbouwen, maar erg goed voor me.
Omdat ik bij mijn nieuwe baan net te dicht bij woon krijg ik geen parkeer toegang op mijn RUG pas. Als ik dus met de auto wil komen dan kost mij dit 6 euro parkeer kosten per dag, dit is niet onoverkomelijk maar dit nodigt wel uit tot met de fiets komen. Natuurlijk moedigen de huidige brandstof prijzen ook ernstig aan om met de fiets te komen.
Fiets
Eerst probeerde ik mijn oude racefiets op te knappen maar helaas zijn de onderdelen hiervoor nauwelijks meer te krijgen, deze fiets is dan ook al bijna dertig jaar oud. Dit gaat me wel aan het hart want ik was dol op deze fiets. Daarna heb ik mijn mountainbike gebruikt maar dit bleek eerst al stukken zwaarder te zijn vanwege de hele brede banden en daarnaast bleek deze ook problemen te hebben, namelijk dat de ketting er steeds af ging, soms wel drie keer op weg naar mijn werk en dan de terugweg nog drie keer.
Na een tijdje doormodderen was ik dit zat en heb ik voor het eerst echt veel geld aan een nieuwe fiets uitgegeven. Dit is een zogeheten gravelbike, een soort van kruising tussen een racefiets en een mountainbike. Deze fiets heeft 16 versnellingen, ingebouwde dynamo, schijfremmen en wat bredere banden dan een racefiets. En hij fiets echt heerlijk!
Ik merkte na enkele dagen fietsen wel dat mijn spieren dit echt niet leuk vonden de combinatie van opeens veel meer lopen en ook nog eens fietsen dus ik probeer nu om de dag te fietsen afhankelijk van hoeveel last ik van mijn beenspieren heb. Dit zal ongetwijfeld nog een tijdje nodig hebben met opbouwen maar ik kom er vanzelf.
Sneeuw
Helaas zijn er dan ook nog van die dagen dat je echt niet wilt fietsen omdat er opeens sneeuw ligt! Eind maart en begin april begon het opeens te sneeuwen dus ben ik mooi met de auto gegaan. Die dag hadden wij als computergroep van Sterrenkunde ook nog een afspraak een einde verderop op de Zernike campus, dit was echt een groot feest om daarheen te lopen, lekker glibberen op sommige punten.
Na de afspraak kwamen we weer terug bij ons eigen gebouw en kwamen we daar een collega tegen, zij keek ons aan en vroeg spontaan of we een sneeuwman waren gaan maken, we waren alle drie helemaal wit van de sneeuw. We hebben wel een hoop lol gehad.
Iemand had trouwens wel echt een schattige mini sneeuwman gemaakt op de picknicktafel bij de ingang van ons gebouw.
Kantoor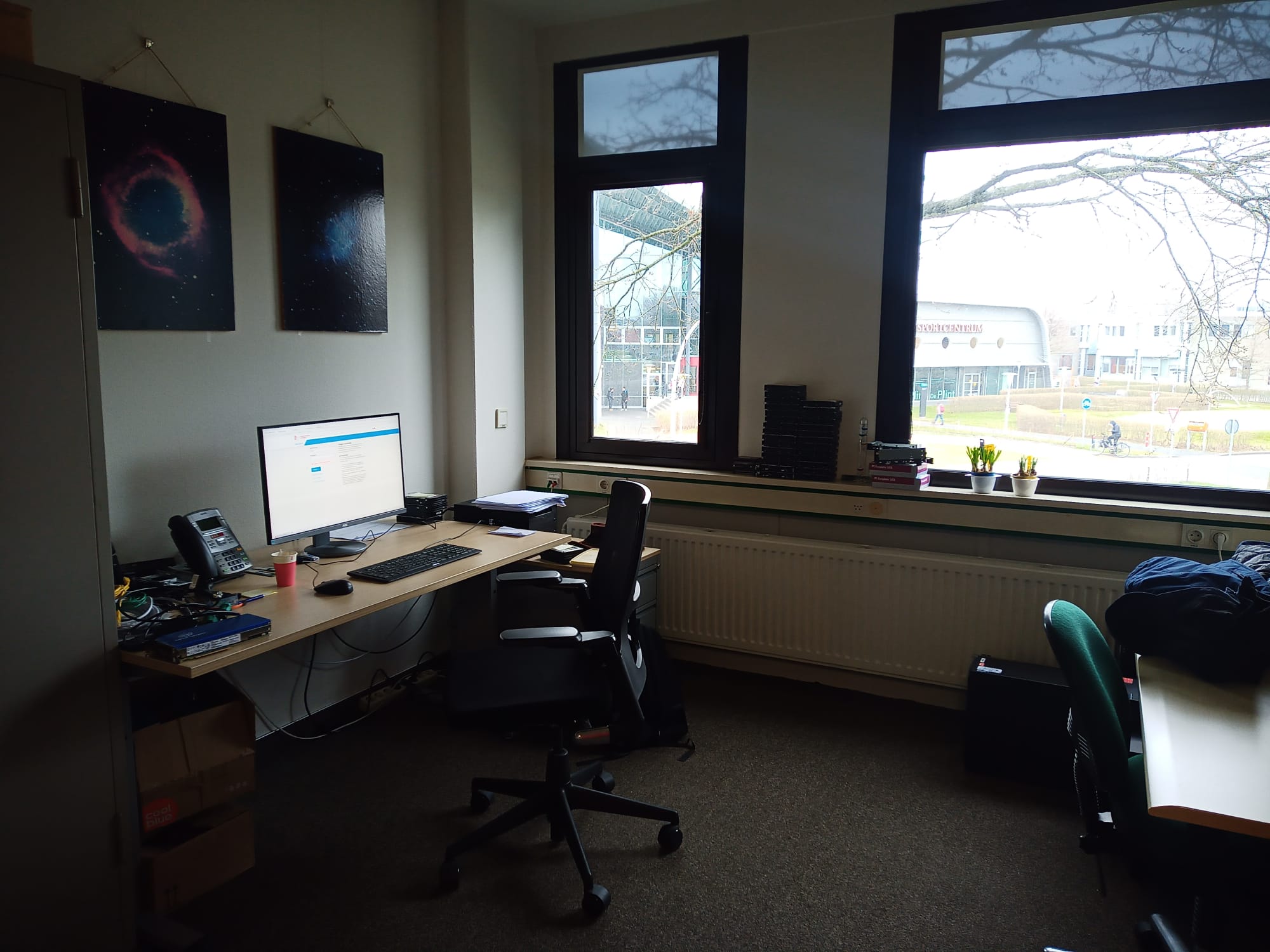 Wat ook nogal een verandering is bij de RUG is dat ik een eigen kantoor heb. Er lopen wel vaak mensen binnen omdat ik ook het uitleen punt van hardware ben en het meest centraal zit van de computer groep maar het heeft echt wel iets om een privé kantoor te hebben.
Dit kantoor heeft meteen ook een tweede werkplek om computers op te testen en is daardoor ook de meest gebruikte plek voor de computergroep om te overleggen, iets wat we trouwens ook vaak in de kantine of de koffiehoek doen. Bij die laatste locatie is het dan wel vaak zo dat collega's die niet van de computergroep zijn opeens mee gaan doen met onze besprekingen wat erg gezellig is.
Foodcourt
Ons gebouw grenst ook aan de commerciële foodcourt, hier komt mijn broer af en toe lunchen met zijn vriendin, dus ik heb daar ook eens met hun mee geluncht, dit was erg gezellig. Ik wil daar nog wel eens vaker gaan lunchen, ik ben bijvoorbeeld best benieuwd naar Broodje Ben, het nadeel daarvan is dat daar altijd erg lange wachtrijen staan. Ik heb ook al een tent gespot waar ze joekels van hamburgers verkopen, dat zag er erg lekker uit maar dat vind ik dan meer iets voor avondeten, dus misschien ga ik dat er ook nog wel een keer doen.
Alles bij elkaar voel ik me erg thuis bij de RUG en vind ik de sfeer binnen de computergroep en het Kapteyn instituut (Astronomie) echt heel fijn. Ik ben erg blij met mijn overstap en hoop hier nog lang te blijven werken.