Noobie
Submitted by

valheru

on Fri, 2020-10-16 12:14
Op maandag 3 augustus kwam ik thuis na een wandeling met Diane en lag Noobie voor dood op een stoel, we zijn toen met spoed op maandag avond naar dierenarts Hopmans gegaan, omdat het een avond consult was moesten we naar de vestiging in Roden. Hier bleek er een gezwel in zijn keel te zitten wat mogelijk kanker was of een abces.
Hierop zijn we eerst gaan behandelen als een abces met antibiotica en pijnstiller en de volgende dag heb ik een biopsie laten nemen om te weten of het een tumor was of echt alleen een abces. Terwijl ik op de uitslag wachtte knapte Noobie heel erg op van de pijnstiller en antibiotica dus ik had goede hoop dat het een abces was en dat het allemaal wel meeviel.
Op vrijdag 7 augustus kwam helaas de uitslag dat het toch een tumor was met een abces er bovenop.
Op maandag 10 augustus ben ik opnieuw met Noobie naar Hopmans gegaan voor een controle en overleg hoe we verder zouden gaan.
Hierbij is afgesproken dat ik hem pijnstiller zou blijven geven elke dag en we zouden kijken hoe lang dit goed zou  gaan. Ondertussen liep hij weer heel levendig rond, zeurde graag om eten en knuffels en leek algeheel een gezonde vrolijke kat te zijn, ik had hierdoor goede hoop dat hij zijn 16-de verjaardag op 9 november zou halen.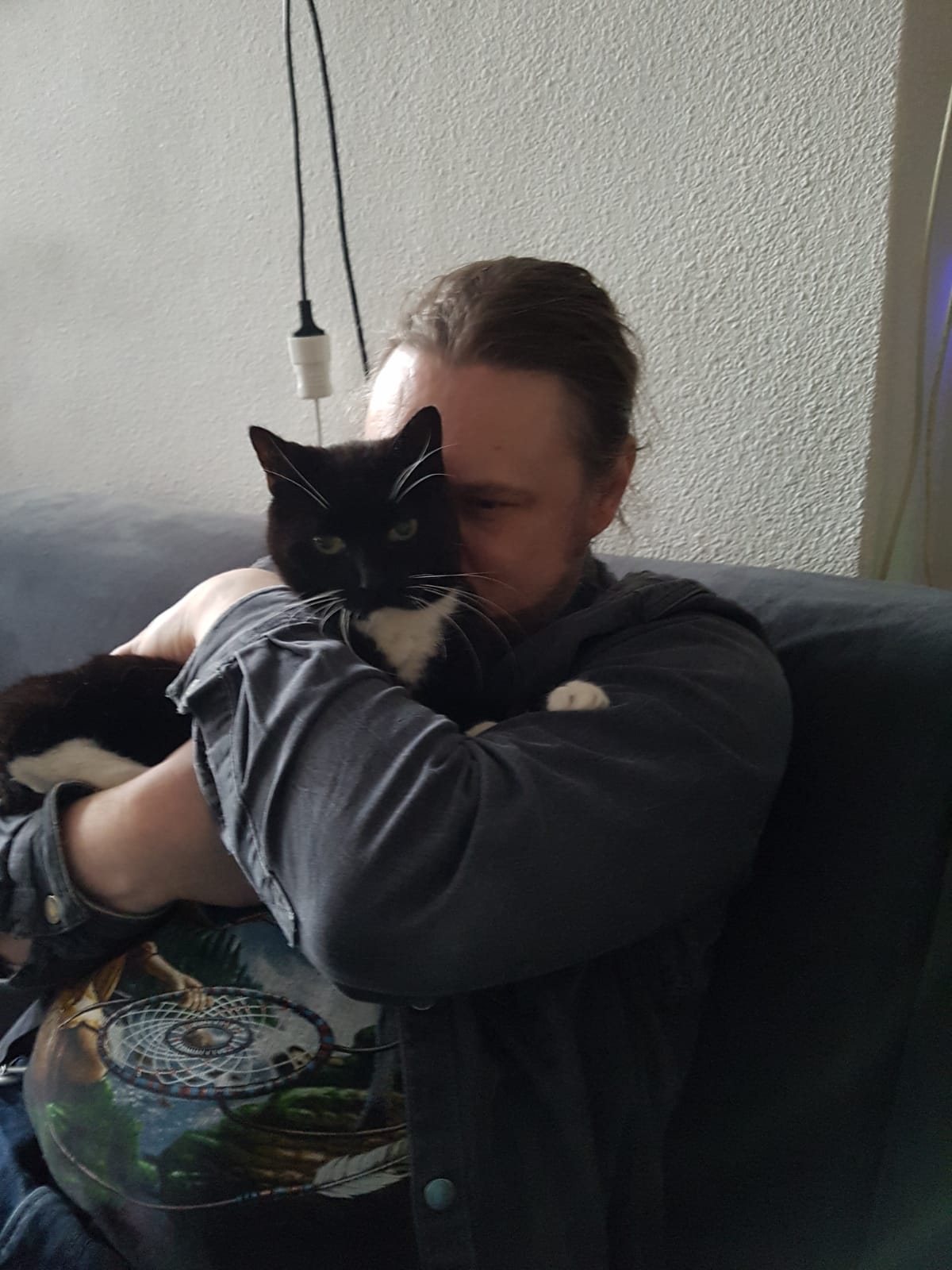 Op 22 september begon hij weer achteruit te gaan en heb ik telefonisch overlegd met de dierenarts en heb ik nog een antibiotica kuur opgehaald om daar de volgende dag mee te beginnen. De volgende dag echter leek hij heel erg opgeknapt en heb ik dus besloten de kuur voorlopig uit te stellen.
Op 6 oktober was hij dusdanig achteruit gegaan dat ik toch met de kuur begonnen ben, dit keer was het niet zo makkelijk en verzette hij zich bij elke pil, terwijl hij bij de eerste kuur ze gewoon opat.
Op 15 oktober bleek dat het echt de verkeerde kant op ging, zijn wang werd ook dik, hij werd lusteloos en hij sliep voornamelijk. Ook werd hij magerder. Ik had nog een nieuwe antibiotica kuur kunnen doen om het nog even te rekken maar ik vond dat eigenlijk zielig voor hem en ik wou voorkomen dat hij pijn kreeg of echt ellendig werd dus heb ik op 16 oktober (vanochtend) gebeld en zal hij vanmiddag om 14:30 ingeslapen worden. Dit was een hele moeilijke keuze, vooral omdat hij vanochtend weer even wat levendiger was maar gezien hoe hij nu is (12:00 uur) is het echt de goede keuze.
Voor mij is dit de eerste keer dat ik ver van te voren dit moment op me af zie komen en ik moet zeggen ik vind dat heel zwaar. Gelukkig is Diane een hele goede steun voor me.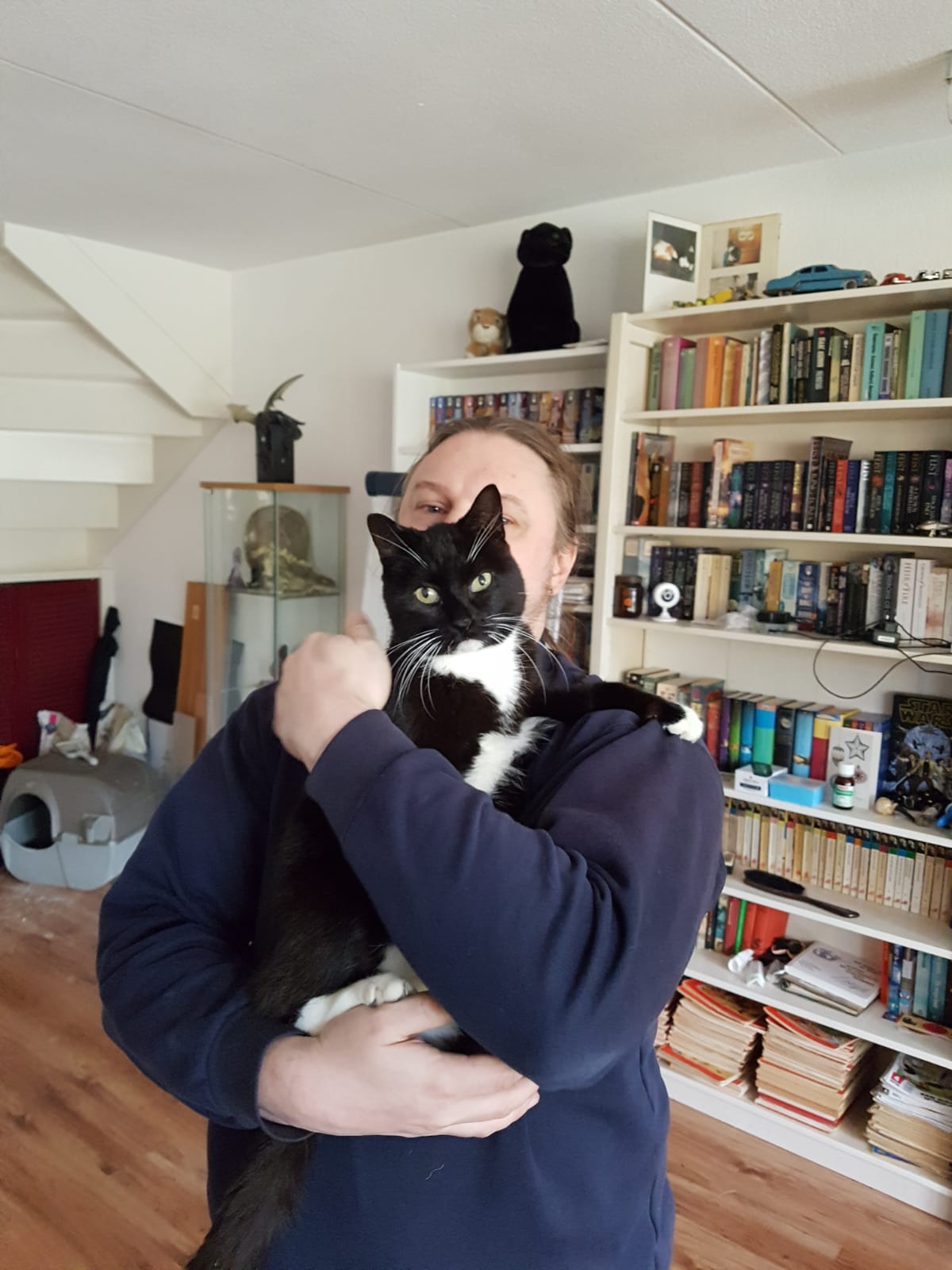 Update 16:30
Noobie is rond 14:50 vredig ingeslapen bij de dierenarts en zal gecremeerd worden door hetzelfde crematorium wat ook Jacky gecremeerd heeft en zal dan op dezelfde weide uitgestrooid worden. De laatste foto is vandaag gemaakt, hij lijkt heel helder maar je kunt aan zijn dikke wang zien hoe ver de tumor gegroeid is en hij voelde zich duidelijk niet happy en zijn wang deed pijn als je er tegenaankwam. Deze foto was ongeveer 20 minuten voor we naar de dierenarts vertrokken voor de laatste keer.
Ik ben erg ontdaan en zal hem echt heel erg missen.