Hate Speech op Facebook *updated*
Submitted by

valheru

on Sat, 2021-01-30 16:38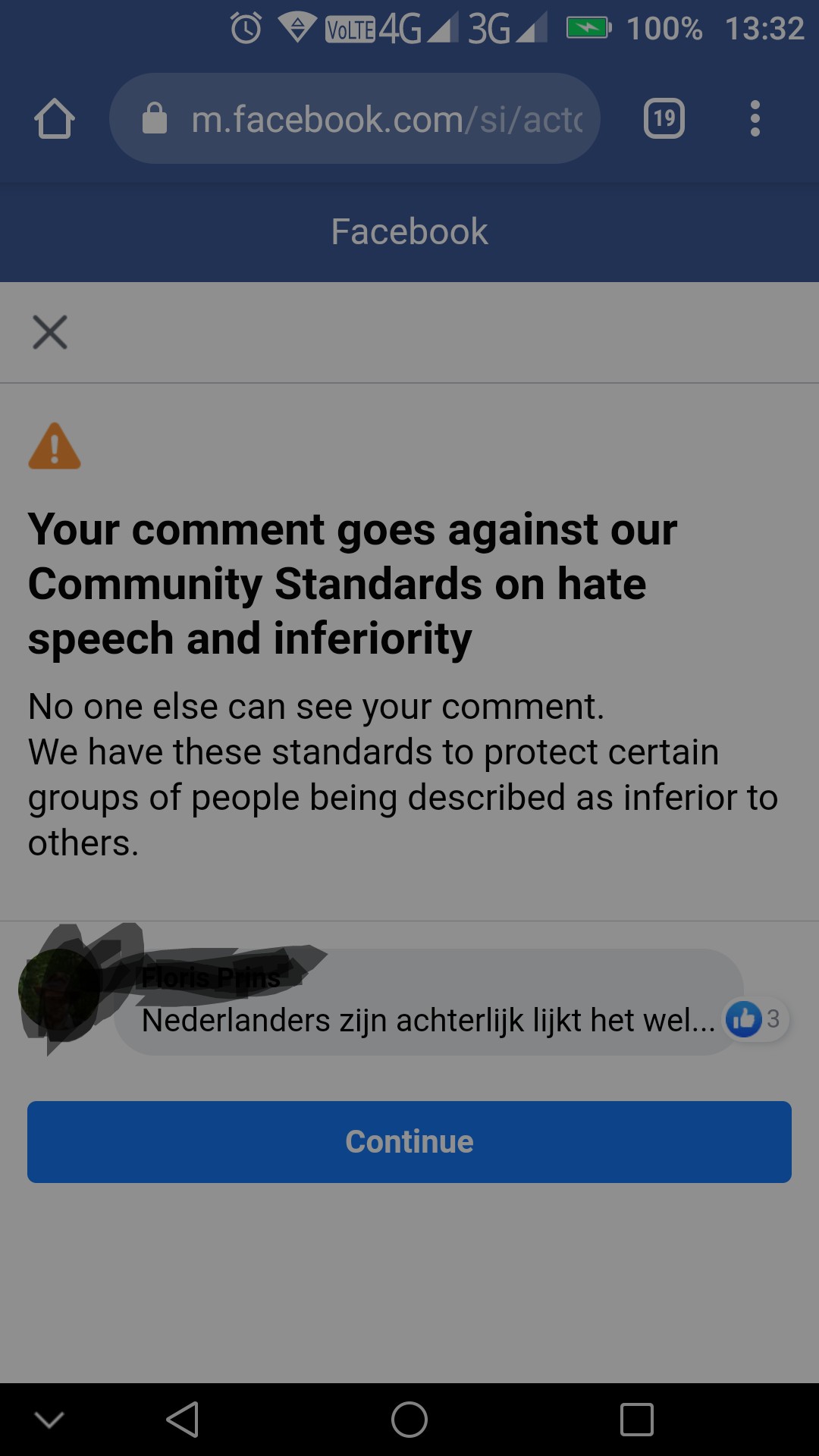 Vandaag was een unieke dag, ik ben door Facebook op de vingers getikt omdat ik hun policy over 'hate speech' had geschonden.
Mensen die mij kennen weten dat ik in elke vorm tegen racisme, fascisme en discriminatie ben en het eigenlijk in alle gevallen voor minderheden opneem, dus wat had ik gedaan dat ik zo een melding kreeg? Heel simpel, ik had in een discussie over het feit dat ondanks alle afbraak van de laatste jaren de VVD nog steeds de grootste partij in de peiling bleef gezegd "Nederlands zijn achterlijk lijkt het wel". Facebook is de laatste tijd harder aan het optreden tegen hate speech en soortgelijke problemen, iets wat ik serieus van harte toejuich, maar hiermee schieten ze wel echt kilometers naast het doel.
Mijn reactie was dus om een review aan te vragen, binnen 5 minuten kwam er terug dat ook de review dit als hate speech had geclassificeerd. Het probleem hiermee is natuurlijk dat deze reviews niet door iemand die Nederlands kan gedaan wordt maar door iemand die Engels spreekt, hierbij wordt het woord achterlijk vertaald als 'retarded' in plaats van als 'stupid' waarmee het inderdaad gevaarlijk dicht bij een vorm van belediging van een minderheid komt.
Ik heb een appeal gedaan en daarbij mocht ik mijn uitlating onderbouwen en waarom het volgens mij geen hate speech is. Helaas is het zo dat ze maar een beperkt aantal cases kunnen behandelen omdat ze te weinig mensen hebben dus de vraag is of mijn case wel behandeld gaat worden. Leuk detail bij de appeal is dat je mag opgeven in welke taal je oorspronkelijke tekst is geschreven, helaas kun je daarbij maar kiezen uit een stuk of 10 talen en staat Nederlands daar dus niet tussen.
Misschien zou Facebook er goed aan doen om te zorgen dat ze ook mensen in dienst nemen die Nederlands kunnen of een vertaal systeem bouwen dat ook context snapt en mijn comment dus accuraat had kunnen vertalen. Ik heb een leuke set screenshots gemaakt van mijn apeal die ik bij dit artikel zal toevoegen.
Update 31-01-2021 15:13
En natuurlijk vond Facebook het niet leuk dat ik een post maakte over dat ze me een waarschuwing hadden gegeven en ben ik nu restricted voor 24 uur, dit houd in dat ik niets mag behalve lezen. Ook hierop heb ik een appeal ingediend en zijn hieronder nieuwe screenshots van te vinden. Dit was natuurlijk wel voorspelbaar maar ik kan er nog steeds niet bij hoe ze de opmerking "Nederlands zijn achterlijk lijkt het wel" kunnen interpreteren als hate speech. Ik blijf er bij dat het probleem waarchijnlijk is ontstaan omdat de mensen die dit moeten beoordelen Amerikaans zijn en de tekst automatisch en dus verkeerd wordt vertaald.
De screenshots van mijn appeal:
En de screenshots van de tweede situatie: