Upgrades
Submitted by

valheru

on Sun, 2014-05-18 12:00
Het staat al een paar dagen op Facebook maar ik heb een nieuwe monitor, een Samsung SyncMaster S24B150, dit is een 23,6" LED monitor, deze verbruikt maximaal 30 watt, wat toch wel een van de redenen was dat ik hem uitgezocht heb. Het is de middelste monitor in onderstaande foto, en ja, alle 3 deze monitoren zitten op dezelfde machine.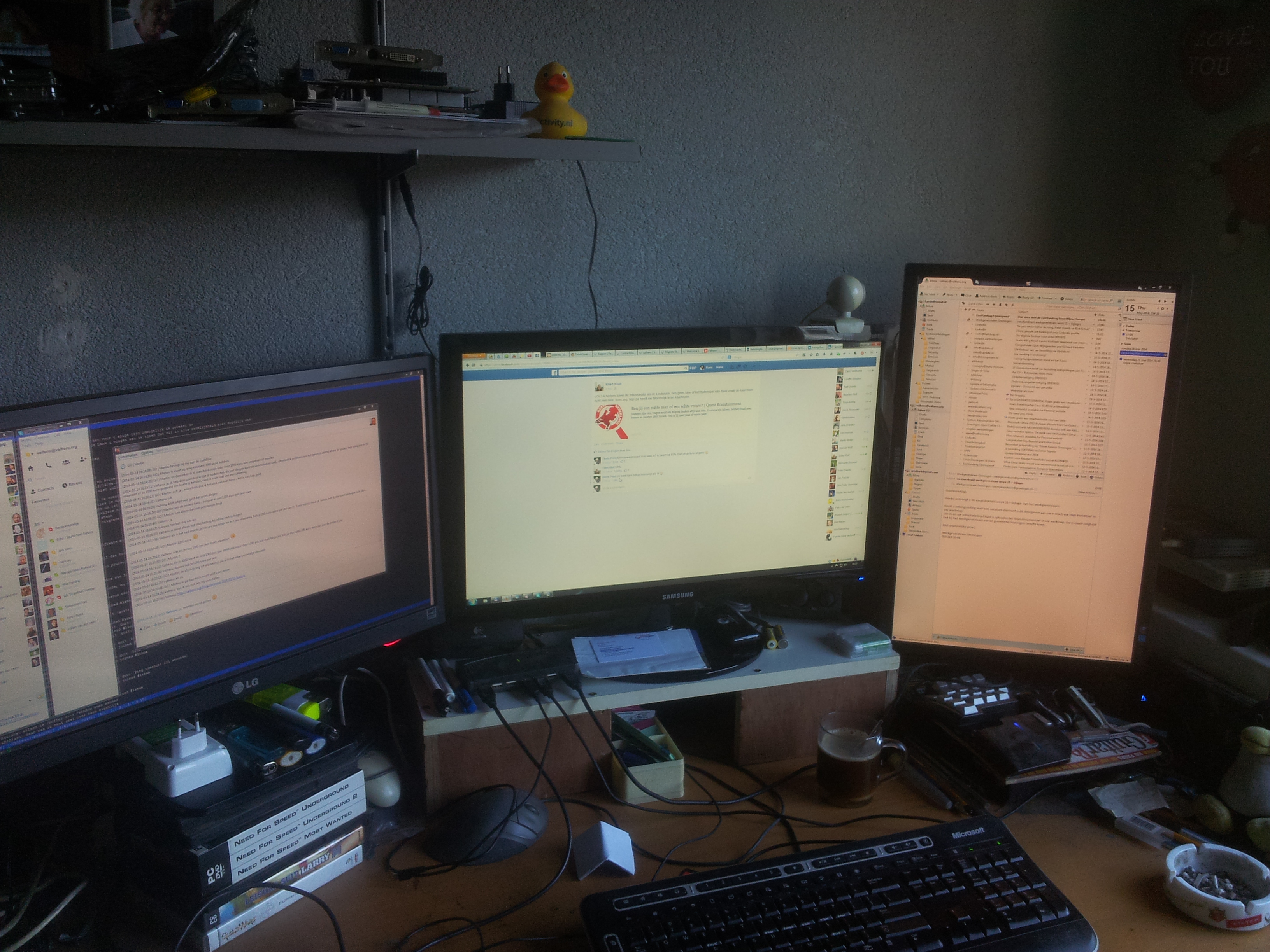 Mijn bak heeft daarnaast nu ook een nieuwe processor, een Amd FX-8350, dit is een Octacore processors @ 4 Ghz, over te clocken naar 6,3 Ghz volgens de specificaties. Daarnaast zit er een tweede hands nieuwe HDD in, een 500 GB, hier draai ik voorlopig Windows op tot ik kan gaan virtualiseren. Het wachten is nu tot ik mijn USB geluidskaart terug krijg van Tjasso en de laatste verloop kabel in huis heb en dan kan ik ook het geheugen en de HDD's uit Ryanna (mijn fileserver) er bij in zetten en met mijn virtualisatie project verder gaan. Na die actie zit er 16 GB ram in deze machine en 11,5 TB aan opslag ruimte.
Sinds enige tijd heb ik ook (met dank aan o.a. Dho) 2 Sapphire HD6950's en een standaard Ati HD5770 in mijn machine zitten. Oftewel, mijn machine verdient als nieuwe naam straks eigenlijk wel monster of beast of zo

And just because we can moest er natuurlijk even gekeken worden hoe het stond met 4 monitoren aan 1 machine

Die vierde is natuurlijk niet blijven staan, die hoort bij mijn tweede pc, die word straks wel samen met nog een vijfde monitor voor de virtualisatie gebruikt, hierover zal ik later een uitgebreid (technisch) verhaal schrijven als dit allemaal gelukt/afgerond is, in a nuttshell ga ik straks 2 keer Windows en 2 keer Linux op 1 fysieke machine draaien, tegelijk, elke Windows met eigen video kaart en eigen monitoren en toetsenbord en muis.