Alles hangt samen
Submitted by

valheru

on Fri, 2019-10-18 14:38
Ik maak me met enige regelmaat druk om het reilen en zeilen in onze maatschappij en dan schrijf ik daar soms wat over.
Tegen Boeren maar toch niet
Zo was ik dit keer 'tegen' de boeren, vondt men, omdat ik er voor ben dat de stikstof uitstoot aangepakt wordt. Dit wil ik graag nuanceren, ik ben niet tegen boeren, sterker nog, ik ben opgegroeid tussen boeren en ben een groot fan van leven op het platteland. Ik heb als puber vakantie werk bij een boer gedaan en ik houd van vlees en verse groente, dus ik ben zeker niet tegen de boeren.
Gedwongen schaalvergroting
Ik ben het met het door veel mensen aangehaalde punt eens, boeren worden steeds weer gedwongen tot schaalvergroting, regels over mest die nergens op slaan en voor groot deel ingegeven zijn door een lobby van mest producenten bij onze overheid, prijzen die extreem laag moeten zijn anders willen supermarkten hun producten niet, etc. Ik hoop op een soort van kringloop landbouw waarbij kleinschaligheid voorop staat. Ik vind het namelijk erg zot dat een boer letterlijk tonnen aan subsidie krijgt en tegelijkertijd zoveel produceert dat de prijzen steeds lager komen te liggen. Laat supermarkten een eerlijke prijs betalen en houd op met overschotten onder de prijs in het buitenland aan te bieden.
Het probleem hiermee is echter dat als supermarkten een fatsoenlijke prijs gaan betalen mensen het vlees niet meer kunnen betalen. Dit komt omdat, ondanks de economische groei in dit land en onze goedlopende economie, de armoede erg groot is, er zijn veel werkende armen en veel mensen die maar net kunnen rondkomen. Dus het minimum loon moet omhoog, de BTW verhoging moet van tafel en er moet normaal belasting geïnd gaan worden, belast grote bedrijven zoals Shell en Unilever zodat zij hun eerlijke deel bijdragen aan onze maatschappij, betaal daarmee leraren, zorgpersoneel en ambtenaren een fatsoenlijk loon zodat supermarkten een fatsoenlijke prijs kunnen vragen voor vlees en andere producten geproduceerd door onze boeren. Dat zorgt er dan weer voor dat de supermarkten een normale prijs aan de boeren kunnen betalen.
Trickle down economics werkt niet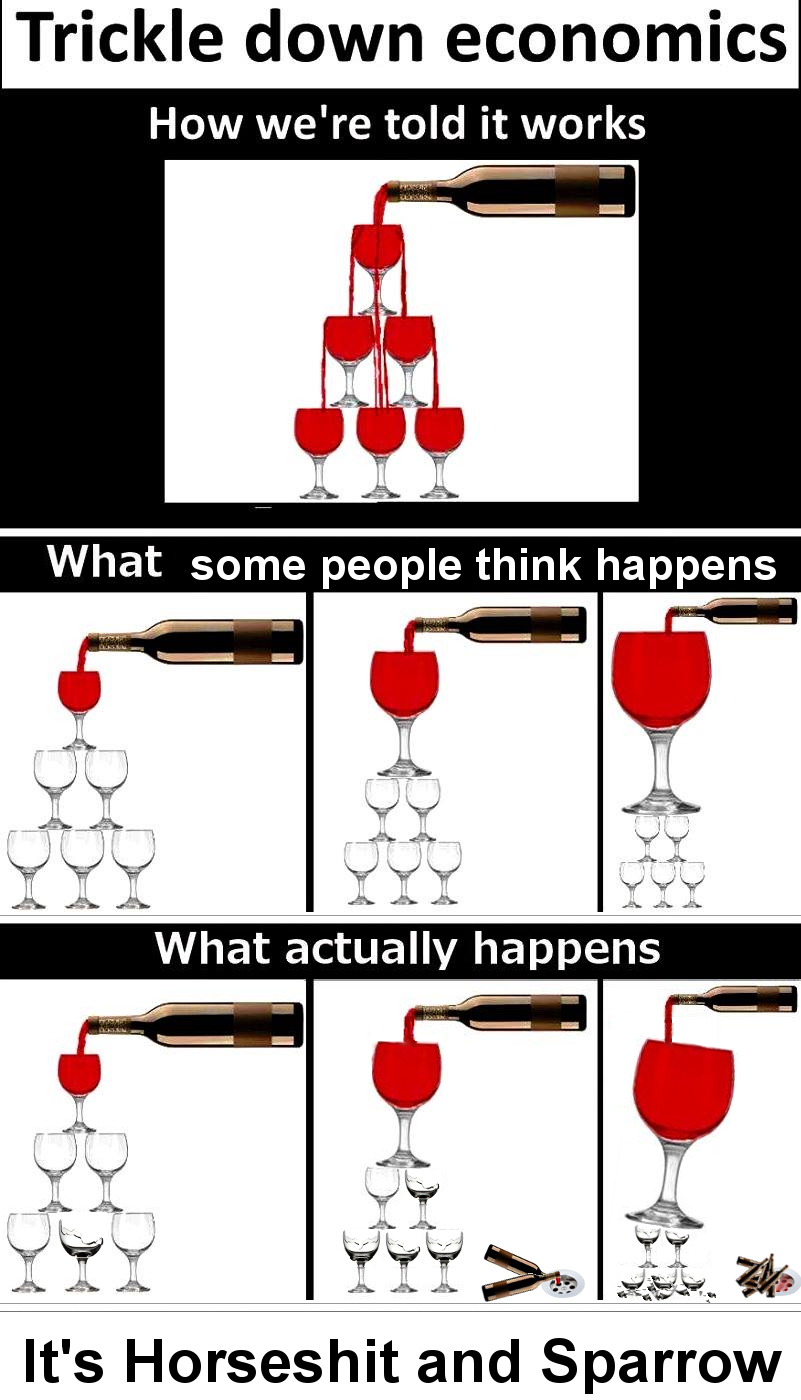 Zoals gezegd in de titel, alles hangt samen, onze economie is er op gebouwd om maximale winsten te verkrijgen voor de mensen aan de top met het idee dat de mensen daaronder het dan vanzelf ook beter krijgen, alleen, het werkt niet, al jaren niet. Wat er gebeurd is dat er een steeds rijkere top ontstaat die van gekkigheid niet weet wat ze met hun geld moeten doen maar het wel zoveel mogelijk proberen te beschermen. Neem een top man van Shell die 20 miljoen per jaar verdient, geen enkel mens kan zoveel geld uitgeven aan nuttige dingen. Dit soort schatrijke mensen kopen huizen op om nog meer geld te verdienen of minder belasting te betalen of beide. Dit soort mensen kopen auto's op terwijl ze toch maar in 1 tegelijk kunnen rijden. Het gaat gewoon nergens over. Maar stel je voor je het idee oppert dat ze iets minder verdienen en wat meer bijdragen aan de maatschappij, dan gaan ze dreigen hun bedrijf te verplaatsen naar het buitenland. Terwijl, als die zelfde maatschappij steeds meer armoede kent zal er op een gegeven moment niemand meer zijn die hun producten kan kopen.
Het is leuk dat een rijk persoon 20 3-delige pakken kan kopen maar de economie is er veel meer bij gebaat dat 20 mensen elk 1 pak kopen, dan worden er vaker pakken verkocht i.v.m. slijtage, verdient de pakken leverancier meer, kan die meer pakken gaan maken en dus meer personeel aannemen die dan weer elk een goed salaris kunnen hebben en dus meer gaan consumeren in hun directe omgeving, meer belasting betalen, etc.
De simpelste oplossing
Alles hangt samen op die manier. Zorg dat mensen een goed loon hebben, dan consumeren ze, sparen ze en helpen de economie. Tegelijkertijd kunnen ze dan dus die fatsoenlijke prijs voor hun stukje vlees of hun groenten betalen en zijn daar de boeren weer mee geholpen. Die kunnen dan stoppen met de eeuwige uitbreidingen, meer tijd, energie en geld steken in goed dierwelzijn, koeien in de wei, betere mest huishouding en dat komt dan het milieu weer ten goede.
Daarnaast blijft het gewoon een waarheid dat we met te veel mensen zijn op deze planeet en dat we daar vroeger of later iets aan zullen moeten doen. Beter vroeger dan later. Dus nee, ik ben niet tegen de boeren, ik ben wel tegen hun manier om af te dwingen alles bij het oude te houden terwijl dat duidelijk een onhoudbare situatie begint te worden.