Prinses Muis
Submitted by

valheru

on Fri, 2022-07-22 02:46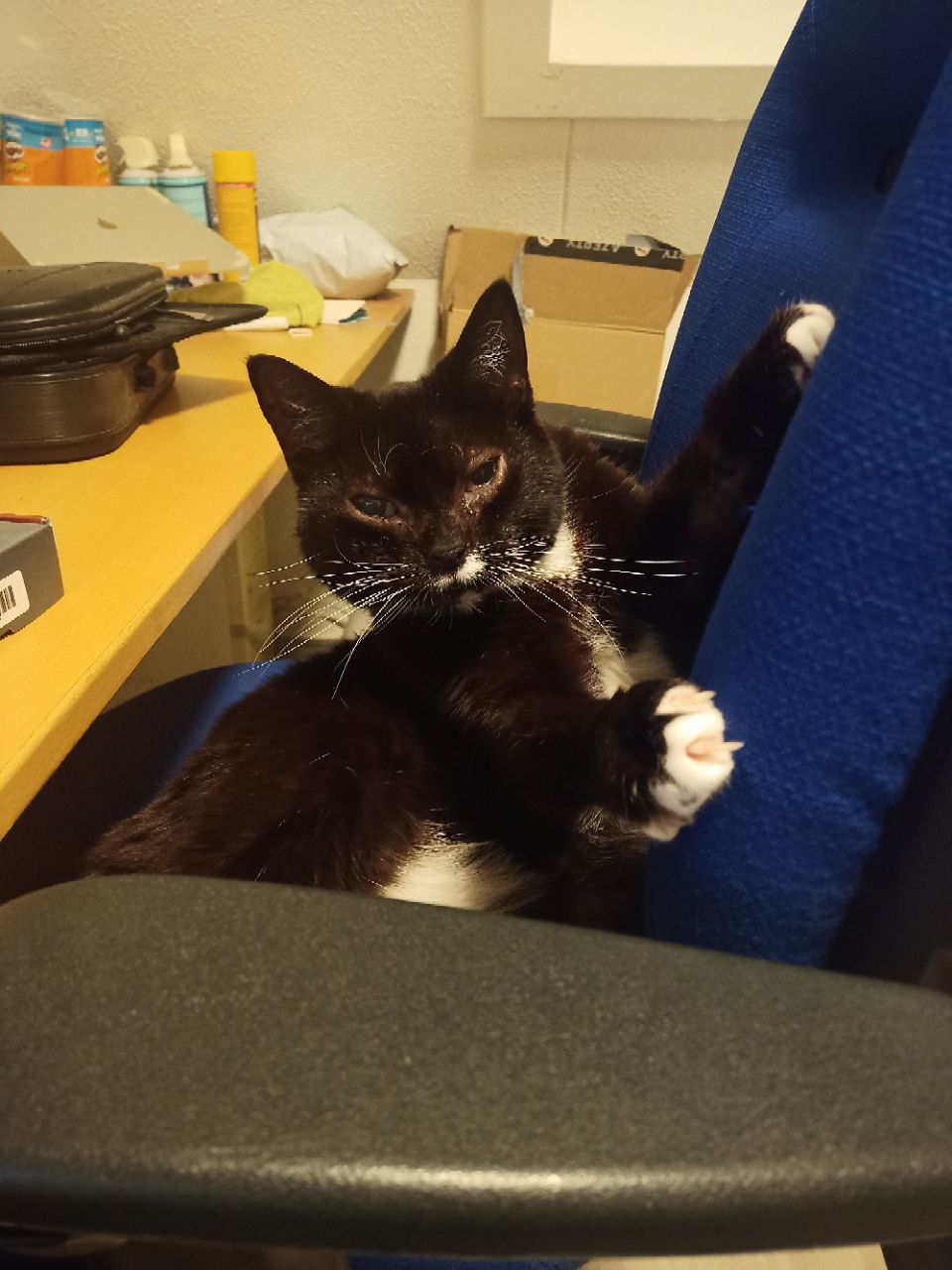 Vandaag, of eigenlijk gisteren inmiddels, was Muis een beetje lusteloos toen ik thuis kwam. Na mijn werk viel ik in slaap op de bank en toen ik een uurtje later wakker werd lag ze naast mij op de grond. Na een paar aaitjes ben ik wat eten gaan maken en toen ik dat op had viel me op dat ze nog steeds op dezelfde plek lag en begon ik me zorgen te maken.
Eerst probeerde ik haar te lokken met wat snoepjes maar daar reageerde ze helemaal niet op. Ik heb haar voorzichtig opgetild en op mijn schoot gelegd, dit resulteerde in een hoop geblaas. Op zich is dit eerder gebeurd als ze een slechte dag had met haar artrose dus ik maakte me niet direct heel druk maar het viel wel op dat ze niet bleef staan op mijn schoot en ook niet bewoog maar zich gewoon liet hangen zoals ik haar neerlegde. Dit vergrootte mijn zorgen natuurlijk.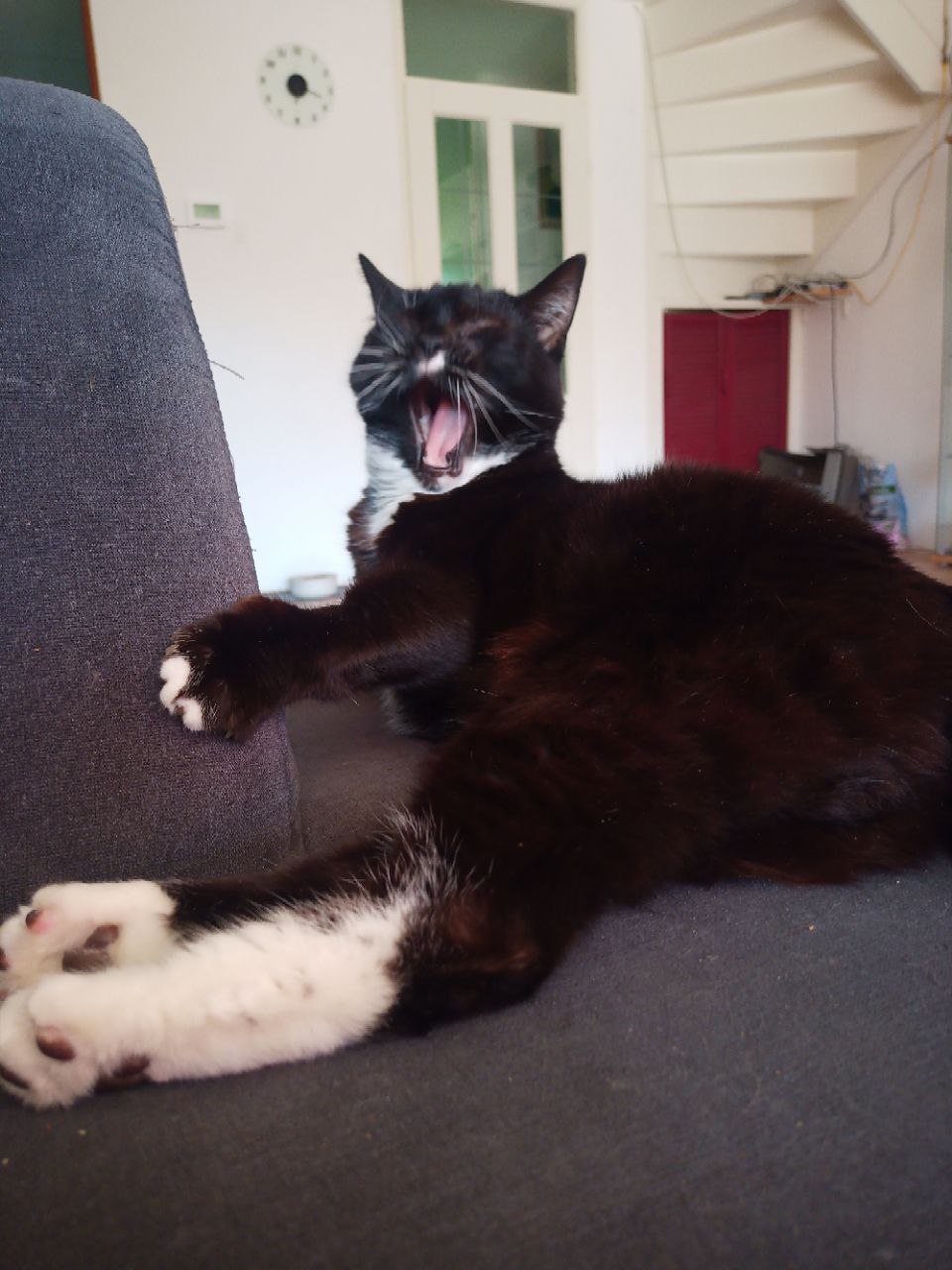 Om toch te kijken hoe ze was heb ik haar een snoepje onder haar neus gehouden, normaal zou ze die direct opgegeten hebben maar nu draaide ze haar kopje weg. Na enkele minuten zo gelegen te hebben terwijl ik haar voorzichtig aaide kwam ze van mijn schoot af en stortte in op de plaats naast mij, hier lag ze amechtig te hijgen en ook te kwijlen.
Dit was voor mij aanleiding om direct de dierenarts te bellen. Helaas zat mijn vaste dierenarts net midden in een spoed operatie dus ben ik verder gaan bellen en bij van Stad tot Wad terecht gekomen waar ik gelukkig direct terecht kon. Terwijl ik aan de telefoon was ging Muis zonder van haar plek te komen ook nog poepen dus wist ik zeker dat het echt niet goed zat. Gelukkig zit van Stad tot Wad niet ver weg dus heb ik met bloedspoed Muis hierheen gebracht.
Hier hebben ze na een kort onderzoek Muis in een zuurstof kooi gezet zodat ze eerst van haar benauwdheid af kon komen en haar hartslag weer rustig kon worden. Hierna zouden ze een echo van haar buik maken en een bloedonderzoek doen. Het zou zeker een uur of langer duren  voor ze stabiel genoeg zou zijn om dit aan te kunnen dus heb ik haar daar met pijn in mijn hart moeten achterlaten met de afspraak dat ze mij zouden bellen zodra ze meer wisten.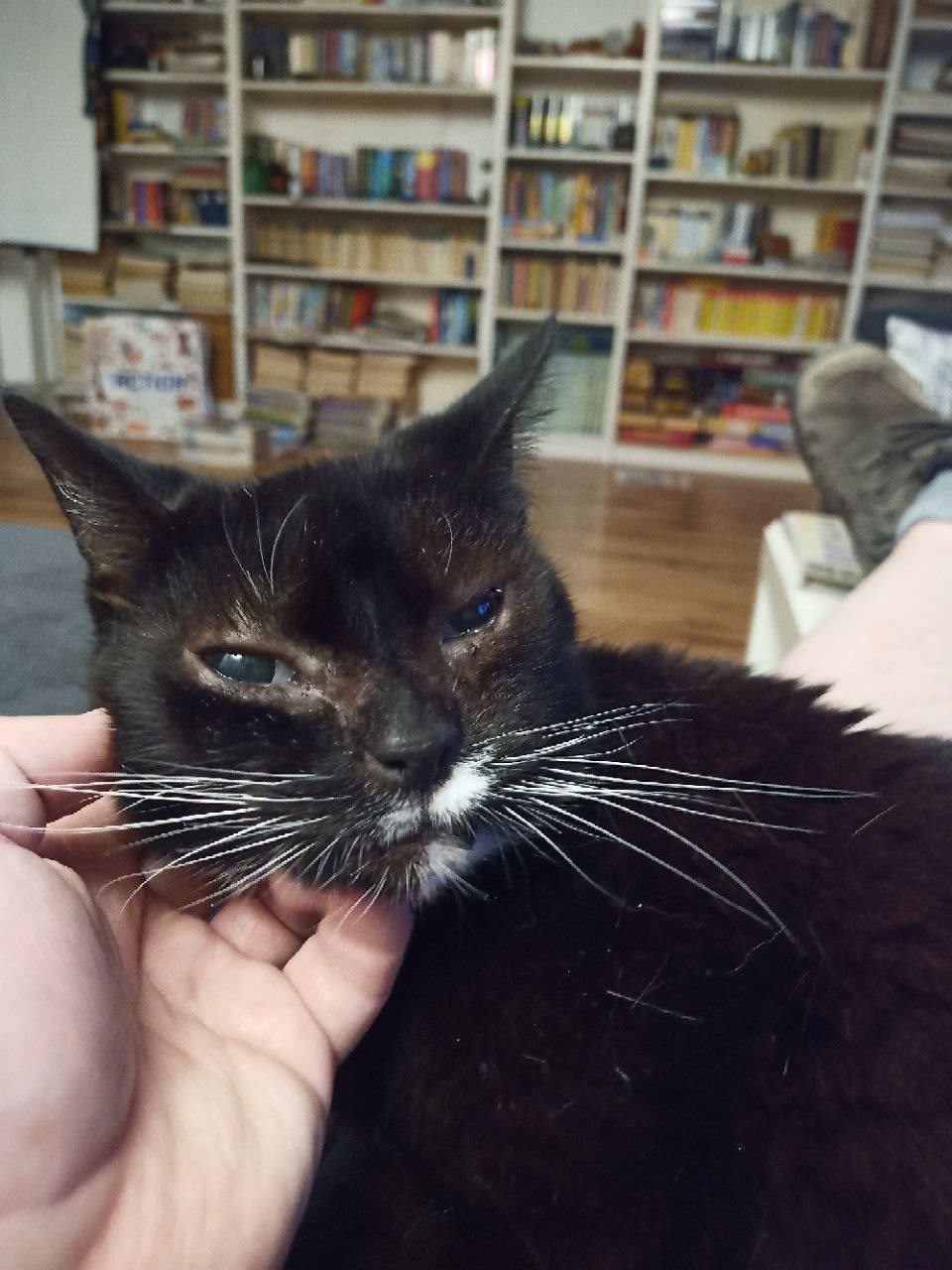 Om twintig voor elf kwam het telefoontje, de echo was niets op te zien maar haar bloedbeeld was echt helemaal mis, de rode bloedlichaampjes hoeveelheid was elf procent waar het boven de dertig hoort te zijn. Dit verklaart meteen waarom ze zo lag te hijgen, ze kreeg gewoon geen zuurstof meer naar haar organen. Een bloedtransfusie zou haar nog een tijdje in leven kunnen houden met de kans dat er dan nader onderzoek gedaan kon worden maar helaas had geen van de dierenartsen in de regio bloed op voorraad en zou ik hiervoor naar Utrecht of Arnhem moeten alleen kon dit niet omdat Muis niet stabiel genoeg was om zo een rit te overleven. Daarnaast was het zeer de vraag of ze iets zouden kunnen vinden en zo ja of het viel te behandelen.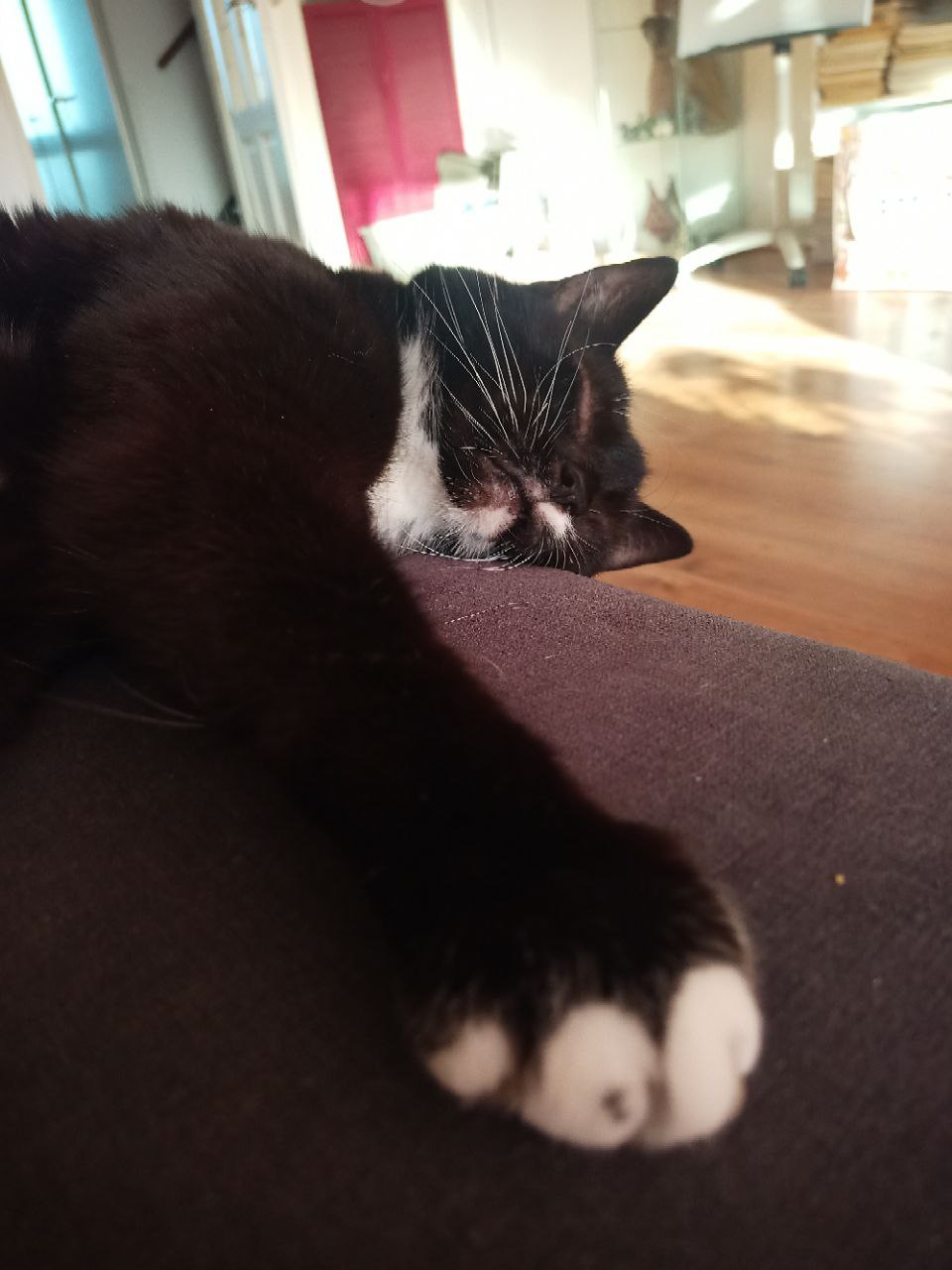 De dierenarts wou het eigenlijk niet zeggen maar dit was dus helaas een hopeloze situatie. Ik heb er dus voor gekozen om haar niet te laten lijden en ben samen met Diane (ja we zijn nog steeds goede vrienden) afscheid gaan nemen. Dit was een zeer verdrietig moment, Muis heeft zich letterlijk in onze armen genesteld en zich laten aaien. Ze heeft nog een tijdje zachtjes zitten spinnen en toen na een tijdje het narcose middel er in ging was ze ook direct onder zeil, het was duidelijk dat ze op was. We hebben haar nog een tijd staan knuffelen en daarna is de tweede spuit toegediend.
Ik heb gevraagd of ze haar naar het crematorium in Stadskanaal willen brengen i.p.v. hun standaard crematorium in Smilde aangezien Noobie hier ook uitgestrooid is en ik het fijn vind als ze weer samen zijn. Dit gaan ze gelukkig voor mij regelen.
Prinses Muizemiep van KrijsPoes tot SchoneBak, Freule van de Snor en de Snuif, Barones van WasPoets
Is helaas van ons heengegaan, het moest zo wezen. Ik hield echt heel veel van haar en zal haar heel erg missen. Ze is bijna 15 jaar oud geworden, wat een respectabele leeftijd is voor een kruising met Maine Coon, ze was sinds 2013 bij mij. De foto's bij dit blog zijn van de afgelopen week, helaas niet met de beste. kwaliteit aangezien ik ze mezelf toe moest sturen via Telegram. Mogelijk vervang ik ze later nog.