Frustraties a.k.a. Moe word ik er van
Submitted by

valheru

on Fri, 2017-06-23 23:24
Dit is een bewerkte (verkorte) versie van een privé stuk, bepaalde stukken zijn hier uit weggelaten omdat deze toch iets te privé werden. Mensen met een account kunnen inloggen en het hele stuk lezen in de privé sectie van deze site.
Misschien doe ik er niet verstandig aan dit te schrijven en online te zetten maar ik merk dat ik hier veel frustraties van heb de laatste week. Ik wil graag voorop stellen dat ik misschien beschuldigend schrijf maar het zeker niet mijn bedoeling is om mensen ergens van te beschuldigen of iets kwalijk te nemen, het gaat gewoon om het uiten van mijn eigen frustraties in de hoop dingen achter me te kunnen laten.
Ik word moe van mensen, mensen die mij verkeerd begrijpen, mensen die opeens hun houding veranderen, mensen die niet eerlijk zijn maar vooral van mensen hun onvermogen om zich ook in te leven in andermans gevoelens. En kennelijk word ik ook moe van mezelf. Bij mij gaat het dan weer eens speciaal over vrouwen maar mannen zijn niet heel veel beter volgens mij. En eerlijk gezegd vraag ik me ook wel af of het niet gewoon aan mij ligt, dat ik te hoge verwachtingen heb of zo. Misschien hoop ik te veel dat mensen mij behandelen zoals ik mensen behandel.
<Weggeknipt stuk>
Contact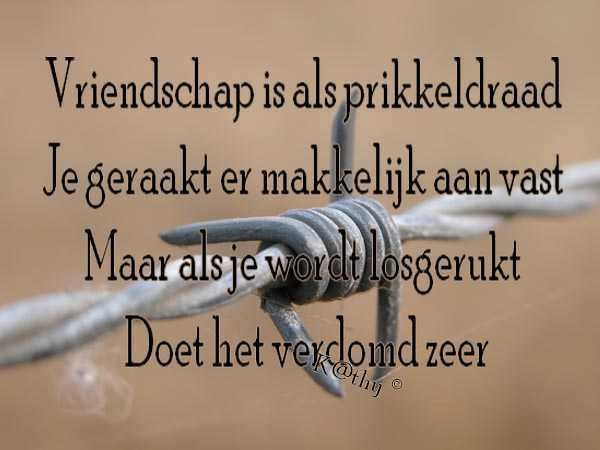 Toen hoorde ik enige weken geleden dat een soort van ex van me weg ging bij haar man. Lange tijd heb ik zitten aarzelen of ik contact moest opnemen, uiteindelijk toch besloten er een e-mailtje aan te wagen in de hoop dat we nu misschien netjes konden afsluiten wat voor mij nooit als helemaal afgesloten heeft gevoeld en dat we daarna hopelijk weer als vrienden met elkaar konden omgaan. Helaas was ik kennelijk niet eens een antwoord waard.
Prima als ze geen behoefte heeft mij te helpen om te pogen het netjes af te sluiten en misschien weer de vriendschap op te pakken maar hoe moeilijk is het om dat even te laten weten? Ik vond dit best teleurstellend, ik dacht en hoopte dat we ondanks de omstandigheden die ons uit elkaar gedwongen hebben wel altijd ergens vrienden zouden blijven, het lijkt er op dat ik dit mis had, wat ik erg jammer zou vinden.
Koffie
Daarna een vrouw met wie ik al 4 jaar chat, die hier regelmatig letterlijk om de hoek werkt. Ik had deze week een paar dagen vrij dus ik dacht ik vraag of we een keer koffie kunnen drinken, geen bijbedoelingen verder, gewoon na jaren chatten en zelfs af en toe bellen een keer kennismaken in real life en de vriendschap hopelijk nog beter maken. Wou ze niet, ze werd zelfs boos, ik moest maar respecteren dat het zo prima was voor haar. Hoe durf ik voor te stellen om de vriendschap beter te maken zo ongeveer.
<Weggeknipt stuk>
Nog een ex
Kwam er van de week ook nog een ex de hoek om van 18 jaar geleden, die is getrouwd maar heeft gehoord dat ik een goeie baan had dus ik mocht haar wel mee uit eten nemen, daar had ze wel een kusje voor over. Echt WTF?
Is het niet normaal dan?
Nou werd ik al moe van politici en grote bedrijven (zie mijn laatste paar maatschappelijke blogs) maar kennelijk word ik gewoon ook erg moe van mensen. Ik vraag me af, verwacht ik nou gewoon te veel als ik verwacht dat mensen normaal met elkaar omgaan en rekening houden met elkaar? Ik vind het normaal om elkaar te helpen, te pogen vriendschappen te herstellen, uit te breiden of te behouden. Is dat niet normaal dan?
Conclusie
Ik snap steeds beter waarom sommige mensen zich uitsluitend op hun baan richten en overige contacten lekker oppervlakkig houden en ik vermoed dat zo een houding voor mij ook verstandiger zou zijn. Het nadeel is dat ik veel waarde hecht aan vriendschappen en menselijk contact dus dat zoiets voor mij erg lastig zou zijn ondanks dat ik een hele fijne baan heb met hele leuke collega's. Misschien moet ik gewoon mijn verwachtingen niet zo hoog leggen en leren er vanuit te gaan dat mensen mij teleur zullen stellen, dan kan ik alleen maar positief verrast zijn als het een keer niet gebeurd.