Let's get on with it
Submitted by

valheru

on Sun, 2013-10-27 20:14
Zo, na alle negatieve dingen die ik de afgelopen tijd geschreven heb die, toch in alle eerlijkheid, vooral kwamen door liefdesverdriet, wou ik nu iets positievers schrijven.
Vacatures
Ik heb vrijdag met behulp van Isis en chasalin een hoop vacatures gevonden en vandaag daar sollicitatie e-mails voor geschreven en verstuurd. Hopelijk maak ik een goede kans bij een of meer van deze vacatures, er zitten een paar hele mooie tussen die mij echt heel leuk lijken en op het lijf geschreven lijken te zijn.
Rijles
Ook ga ik vanaf deze week meer rijlessen krijgen zodat ik hopelijk over niet al te veel tijd een examen kan doen en hopelijk een rijbewijs heb, dit zou mijn kansen op een baan zeker vergroten denk ik. Mijn rijlessen gaan de goede kant, achteruit inparkeren ging vlekkeloos laatste les, natuurlijk zijn er nog dingen die ik moet leren maar ik maak duidelijk vorderingen en ik merk dat het veel beter gaat als de vorige poging, toen had ik 1 keer per 2 weken een uur les, nu heb ik 2 uur les per week en vanaf volgende week zelfs 4 uur les per week.
Muis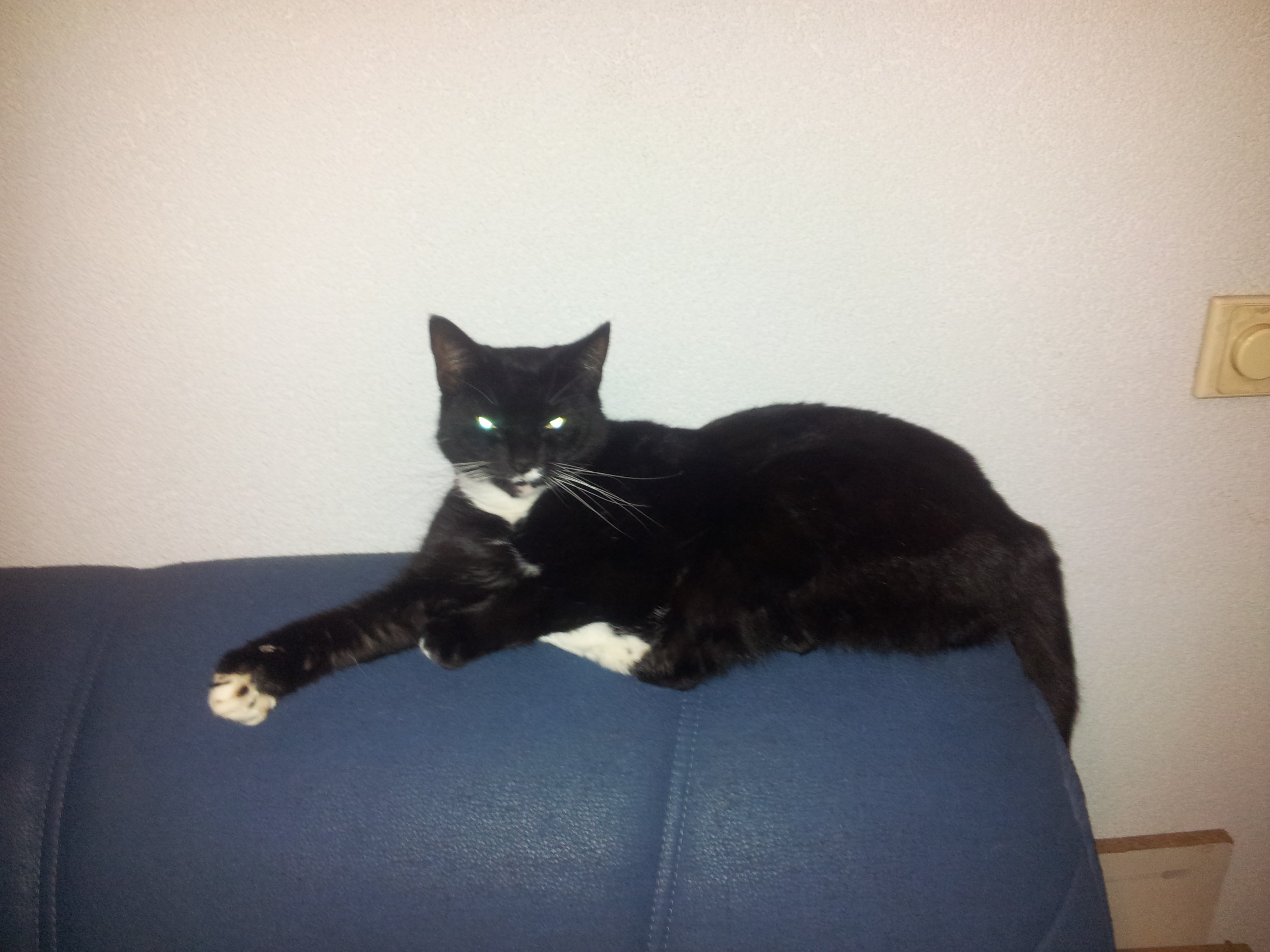 Ook met mijn nieuwe lieve poes Muis gaat het erg goed, ze staat al af en toe neus aan neus met Noobie, ze kunnen al samen de trap af en door de deur heen, alleen wil Muis nog wel eens blazen als Noobie iets te dicht bij komt. Gisteren heeft Muis zelfs een dikke vechtpartij gehad met een van de buurt katten waar ze als glansrijke overwinnaar uit is gekomen en vervolgens heerlijk zich genesteld heeft op de bank hier zoals in de foto te zien is

Ze is erg speels en we hebben dus inmiddels al elke avond de traditie dat ze achter mijn hand aan jaagt onder het dekbed, dit vind ze geweldig. Ze vertrouwd mij ook al helemaal, ik word elke ochtend wakker ingeklemd tussen 2 katten en vanochtend ging ze zelfs tussen mijn schouder bladen op mijn rug liggen. Dit vond ik echt heel lief maar stiekem wel wat oncomfortabel. Ze geeft mij zelfs af en toe kopjes en vind het inmiddels ook heerlijk als ik haar buik aai, ze moet alleen dringend leren om niet op haar rug te draaien op het moment dat ze op een smalle bank leuning ligt, ze heeft al heel vaak opeens op de zitting gelegen en een of 2 keer dat ze aan de leuning hing aan haar nagels. Ook reageert ze al heel goed op mijn stem als ik haar roep. Ik ben echt heel blij met haar.
Vrienden
Wat dan iets minder positief is is de uitnodiging die ik voor een verjaardag ontving zojuist terwijl ik voorgaande schreef, dit is een verjaardags feest waar zij ook gaat zijn met haar vriend. Ergens heb ik het idee dat ik daar wel heen moet en niet mijn vrienden kring uit elkaar moet laten vallen om wat er gebeurd is de afgelopen 2 maand, aan de andere kant heb ik sterk het idee dat het verstandiger is om hier niet heen te gaan en dit eerst eens een tijd te laten bezinken...
Finally
In general is het gewoon hoog tijd om door te gaan en me op mijn eigen toekomst te focussen, iets wat vandaag aardig gelukt is ondanks dat ik nog wel wat verdrietige momenten heb over haar. Dus ik zou willen stellen dat het weer de goede kant op gaat.