TGL 2015
Submitted by

valheru

on Sat, 2015-08-08 21:30
Afgelopen weekeinde was het weer zover, het was weer tijd voor The Greenhouse Lan in Sappemeer. Net als vorig jaar was het weer een geweldig weekeinde. Dit jaar heb ik niet veel meegespeeld omdat ik al wat last van mijn schouder had toen ik kwam, dus afgezien van het racen met Split Second, wat echt verslavend leuk is, heb ik vooral single player games gedaan zoals Plague Inc. en Train Simulator 2015, die beide ook redelijk verslavend zijn maar gelukkig erg simpel om te spelen dus geen inspanning op mijn schouder opleverden. Voor de verandering kwam ik dus bij een LAN party vandaan met minder last van mijn schouders dan ik had toen ik erheen ging.
Donderdag ben ik naar mijn ouders gegaan om de auto van mijn moeder te lenen, daar was afgelopen week ook een blikseminslag op een verdeelkast van KPN geweest waardoor de modem van mijn ouders het begeven had, ze hadden die dag net een nieuwe modem dus of ik meteen de netwerk apparatuur weer op orde kon maken. Hierbij bleek dat de netwerkkaart in de computer van mijn vader was overleden dus dat ik die niet weer aan de praat kreeg. De computer van mijn moeder deed een stuk gekker, als die aangesloten werd op de kabel die boven uit de muur komt werkte hij, als ik die kabel in de switch stak die daar staat en de kabel naar het outdoor wifi accesspoint ook daarin stak werkte dat ook, als ik mijn ma haar pc op die switch aansloot werkte het niet. Natuurlijk wat met poorten zitten spelen maar geen resultaat, conclusie was dat de switch ook een tik had gekregen en vervangen moest worden. Dus ik ben naar huis gegaan met de afspraak dat ik de volgende dag voor de LAN nog even langs zou komen.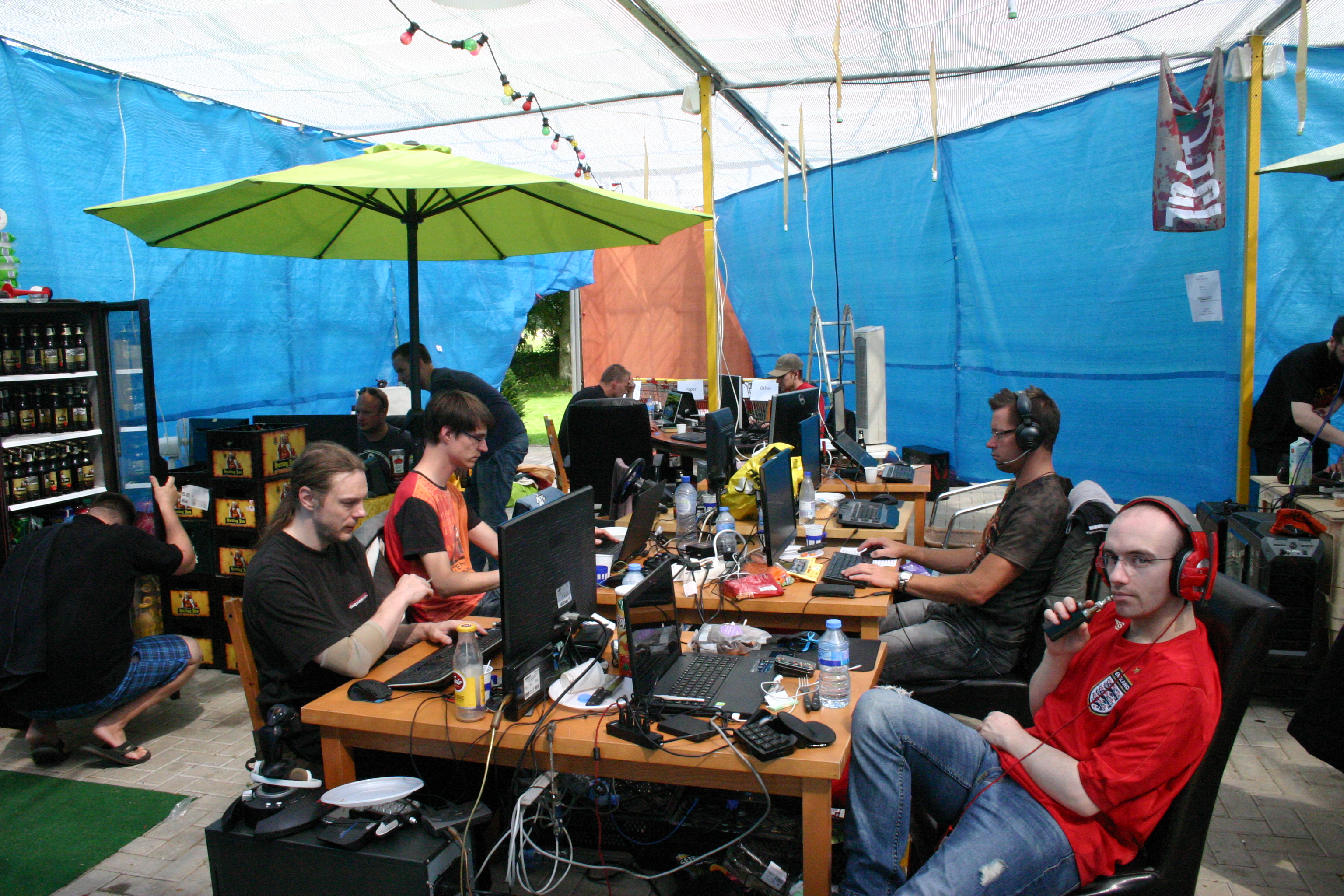 Er was gevraagd of ik een extra pc mee kon nemen naar TGL dus vrijdag ochtend heb ik met behulp van DHO allebei mijn pc's ingeladen plus monitoren en randapparatuur. Daarnaast natuurlijk ook een slaapzak en een tas met wat kleren en zelfs een fles drank. Toen ben ik eerst met DHO naar mijn ouder gereden, switch vervangen en toen bleek dat het nog steeds niet werkte, dus kon ik verder weinig doen behalve beloven maandag terug te komen.
Daarna naar chasalin gereden met DHO die daar op de kinderen ging passen en daar natuurlijk chasalin zijn pc inladen plus overige apparatuur, tent en slaap matjes en natuurlijk zijn spullen en toen door naar Sappemeer naar TGL!
Daar aangekomen alles aansluiten en toen ik daar mee klaar was bleek chasalin de tent al opgezet te hebben. Ik ben toen wat gaan rondlopen en mensen van het jaar daarvoor gaan begroeten. Her en der wat praatjes gemaakt en meegekeken hoe mensen al aan het gamen waren. Zelf ook nog wat zitten gamen maar niet bijster veel. Na een tijdje kwam chasalin terug van DHO ophalen en ging weer weg om ergens een etentje te hebben. Op de LAN gingen we pizza bestellen wat een redelijk drama was want de gebruikelijke pizzeria bleek dicht te zijn. Via Thuisbezorgd een andere pizzeria opgezocht en de hele bestel lijst omgebouwd naar hun kaart en daar bestellen. De pizza's waren te eten maar helaas niet zo goed als die van vorig jaar. Die avond was ik lekker aan het gamen dus werd het behoorlijk laat.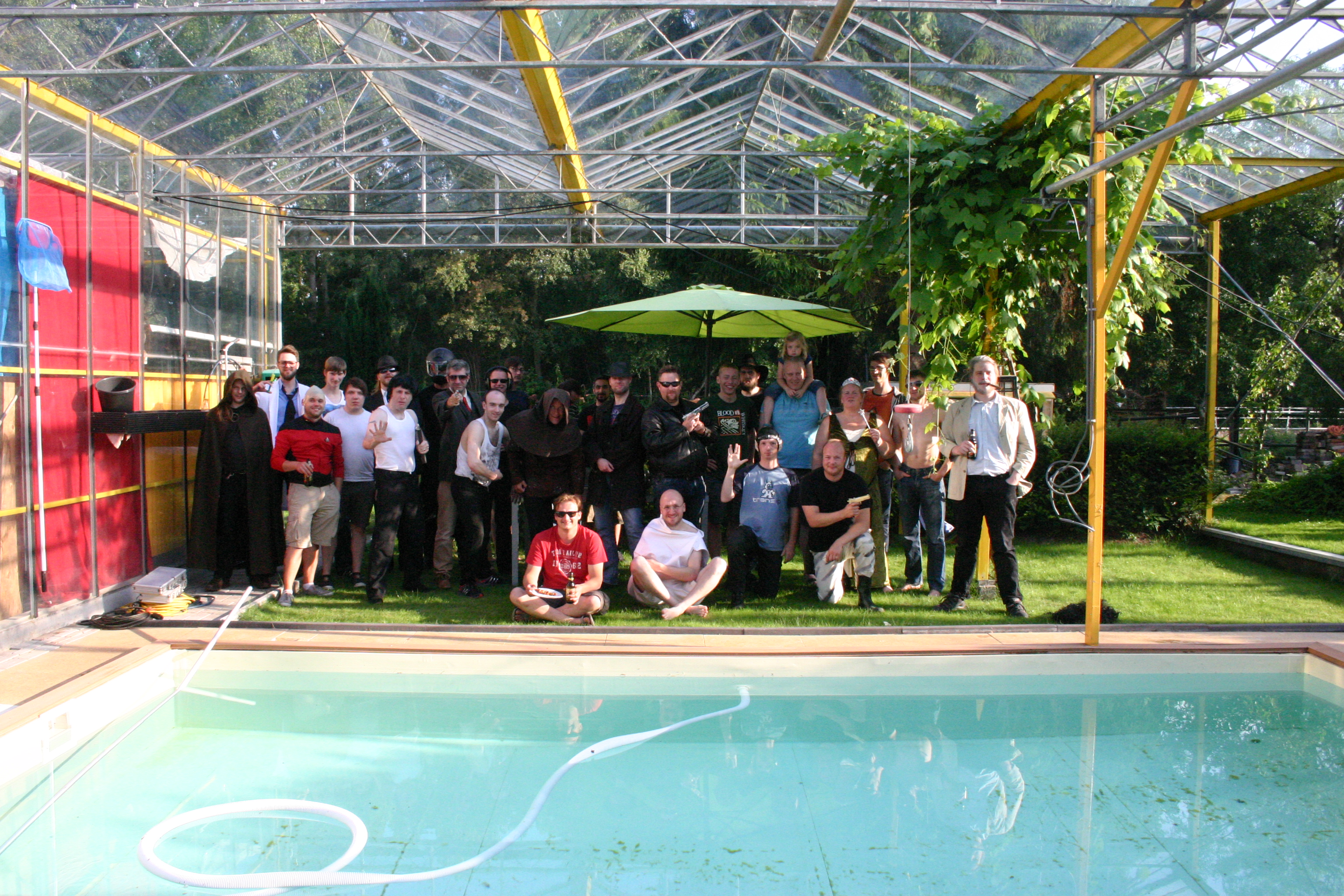 Zaterdag hebben we na een middag gamen de gebruikelijke BBQ gehad die weer zeer goed in de smaak viel. Na de BBQ is de gebruikelijke groepsfoto gemaakt. In de avond ben ik met een aantal mensen Split Second gaan spelen en bleek het op den duur alweer 4:30 uur te zijn en ben ik mijn bed ingekropen. De volgende ochtend, nou ja, bijna middag, ben ik letterlijk mijn tent uitgedreven, chasalin heeft een zeer goede tent die de warmte goed vasthoud, zeker in de volle zon. Dus na een half uurtje afkoelen ben ik pas weer in de kas gaan zitten om nog wat Train Simulator te spelen.
Tegen het einde van de middag was het helaas alweer tijd om in te pakken en te gaan. Eerst naar chasalin, zijn spullen uitladen en daar nog even koffie drinken, beetje socializen met Isis en de kindertjes en daarna door naar mijn eigen huis, uitladen, computers aansluiten, nog even met wat buren gekletst en toen maar eens ouders gebeld over de blikseminslag, mijn broer bleek al dingen geregeld te hebben en ik mocht de auto nog wel een dagje houden dus maandag kon ik lekker uitslapen en rustig mijn spullen pakken voor Scheveningen.
Ik vond het een geweldig weekeinde en kijk met verlangen uit naar volgend jaar.
Inmiddels zijn de foto's van TGL 2015 hier te vinden.