Uitbreiding van mijn huishouden
Submitted by

valheru

on Wed, 2013-10-09 23:45
Twee maanden na de dood van Speedy merkte ik toch echt dat ik het miste om een 2-de kat te hebben en vooral dat Noobie eenzaam deed.
Vandaag ben ik dus op Marktplaats gaan zoeken en heb ik een lieve vrouw gevonden wiens poes na een verhuizing zich niet helemaal op der gemak voelde in het nieuwe huis en die ruzie begon te krijgen met de andere 2 poezen die zij had. Ze wou deze poes dus wegdoen hierom en zocht een goed tehuis voor haar. De poes en ik hadden direct een goede klik dus ik heb haar meegenomen op proef om te kijken hoe het gaat en of ze zich hier wel op haar gemak voelt. De poes in kwestie heet Muis.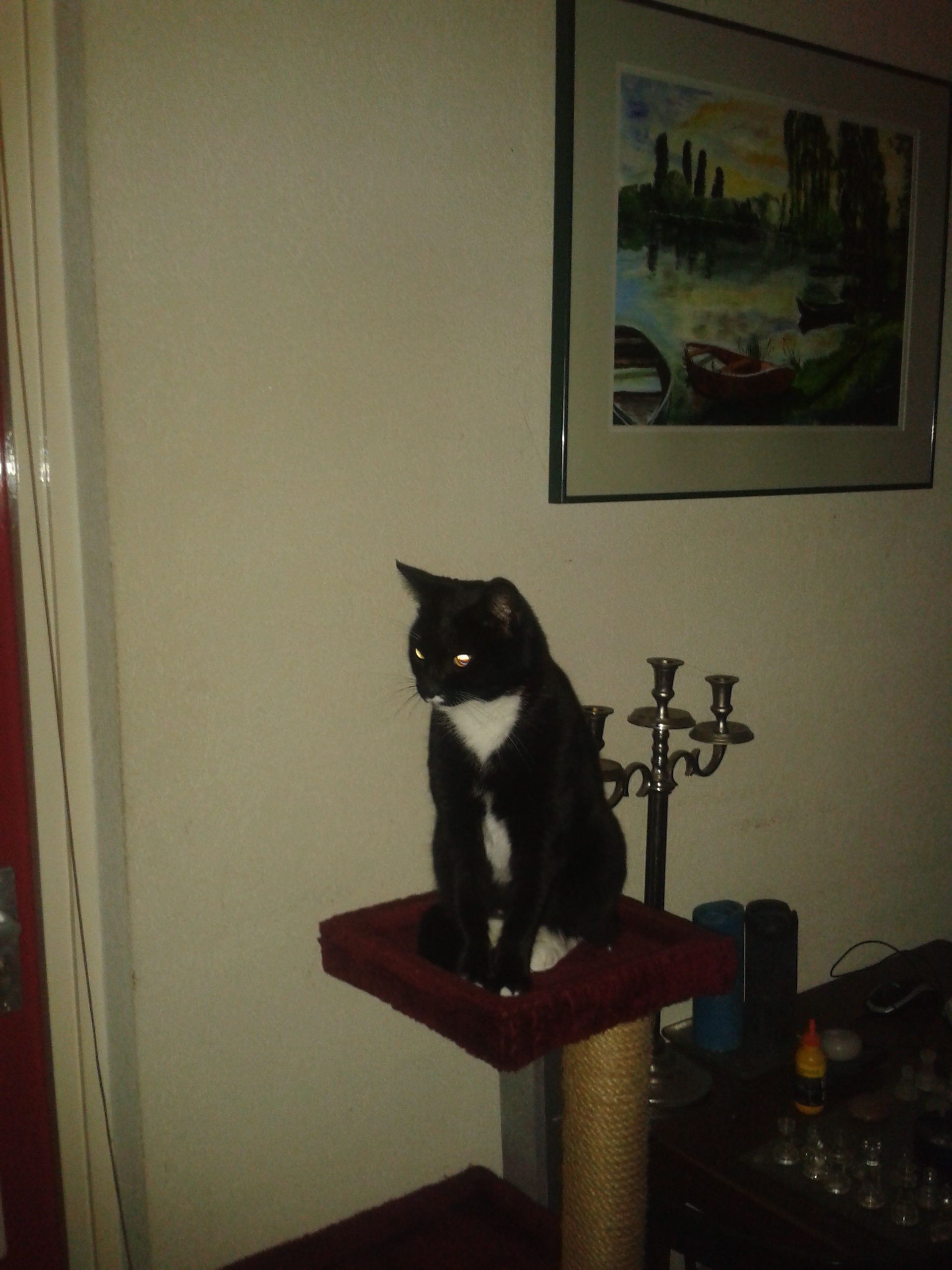 Tot nu toe gaat het eigenlijk erg vlekkeloos voor Muis, Noobie is er wat minder over te spreken dat er een andere kat is, die gromt nog al en is te bang om kennis te maken. Muis verkent ondertussen het hele huis en loopt inmiddels al achter mij aan als ik naar boven ga of weer naar beneden, ze loopt gewoon mee, tenzij Noobie in de weg zit, daar blijft ze bij uit de buurt. Ik ken deze kat dus net drie en een half uur en ze lijkt zich nu al aan mij te hechten, dat is eigenlijk prachtig om te zien.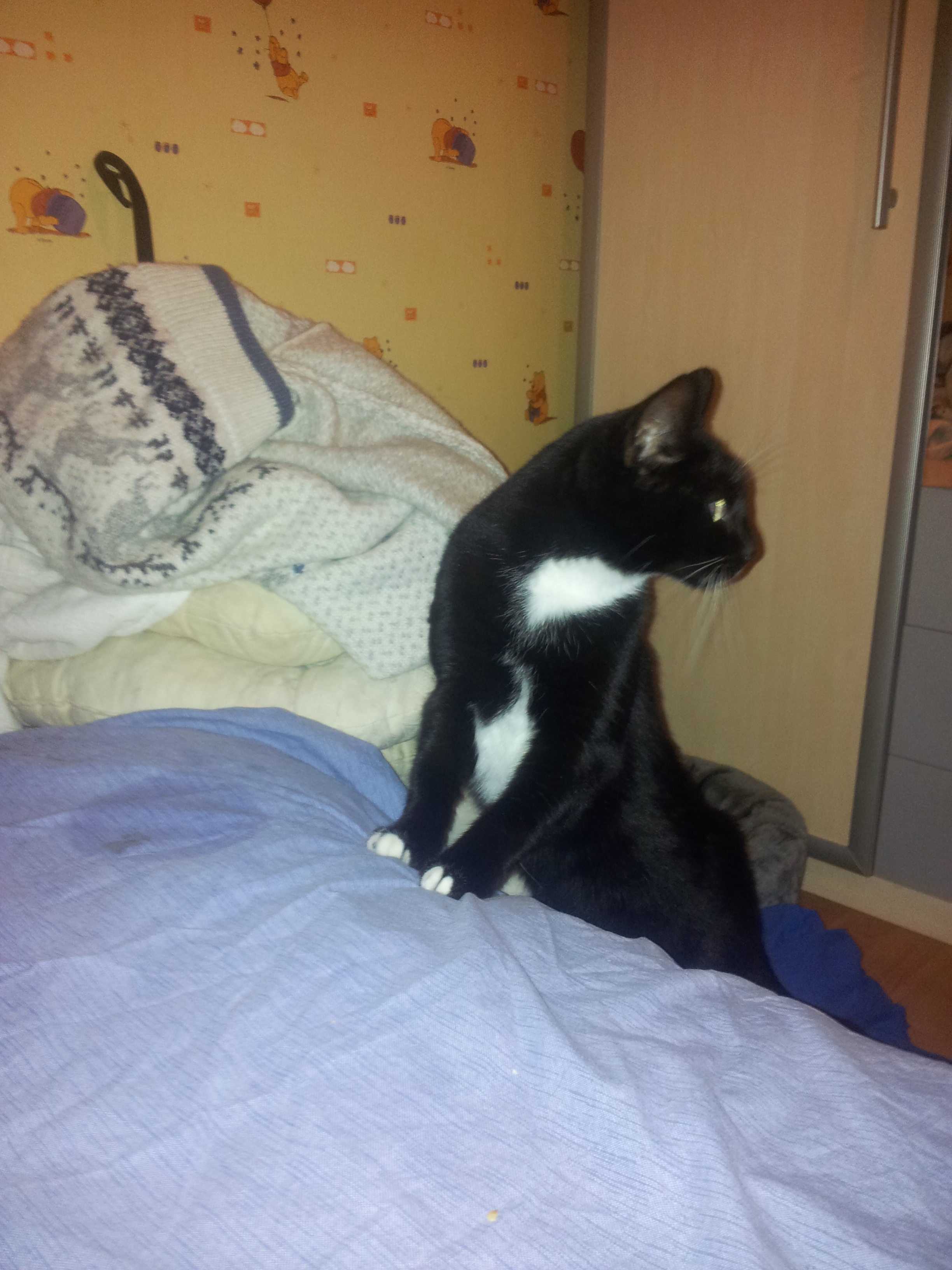 Ze is een halve Main Coon en daarmee dus ook net een slagje groter dan Noobie, terwijl zij de poes is en hij de kater

Op het moment is ze 7 jaar oud wat goed past bij Noobie, die is 9, ligt niet zo ver uit elkaar en ze zijn beide redelijk energieke katten, ik hoop dat ze goede vriendjes worden en samen zullen spelen en lol hebben maar dat zal nog even afwachten zijn voorlopig. Persoonlijk denk ik dat het wel goed komt, het zal alleen erg wennen voor Noobie zijn gok ik alhoewel die ook vrij snel aan Speedy gewend was. Natuurlijk kwam Noobie toen nieuw in het huis en woonde Speedy er al, nu is de situatie anders, Noobie woont hier al 6 jaar ongeveer en Muis komt er nu bij, alleen blijft Noobie de schijtluis maar daar komt ie vast wel overheen na een paar dagen

Muis is inmiddels al gewoon blij als ik naar haar toe kom en tegen haar praat, direct de staart zo mooi in de lucht en tegen mijn been aan vrijen en mauwen als ik tegen haar praat, volgens mij gaat dit zeker goed komen.
Ze was net in de slaap kamer, ik heb haar even geaaid, loop naar de computer kamer en ze komt gewoon enthousiast achter me aan, daar lag alleen schijtluis Noobie direct te grommen dus toen is ze maar weer terug de slaapkamer in gedoken. Dus tussen Muis en mij zit het wel goed, zal waarschijnlijk wel een weekje of 2 duren voordat Noobie weer zichzelf is. Ik ben in ieder geval erg blij dat ik inderdaad de moeite heb genomen om op zoek te gaan naar een nieuwe kat en ik ben zeer tevreden met deze keuze tot nu toe.
Ik heb deze kat overigens uitgezocht op een tip van mijn rij leraar, die is Marktplaats gaan afstruinen tijdens het eerste stuk van mijn rijles vandaag toen hij hoorde dat ik op zoek wou naar een nieuwe kat. En daarna heeft ie dankzij mij Imgur ontdekt, hij kwam er na een half uur toch wel achter dat dat een zeer verslavende site is