Een middagje park
Submitted by

valheru

on Mon, 2014-04-07 21:44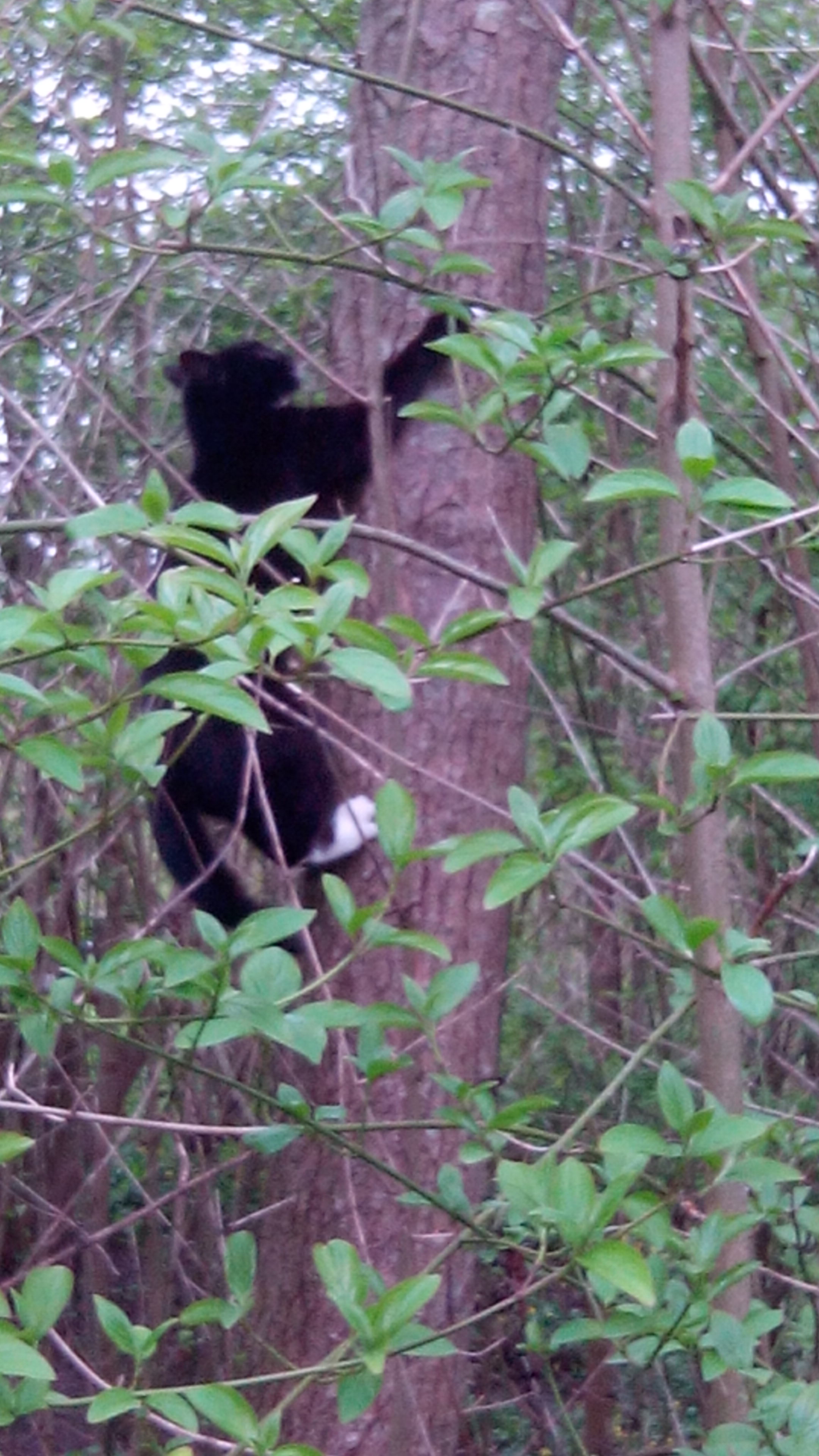 Trap
Nadat we vandaag weer een stuk trap geschilderd hadden, want die is nog steeds niet af, we vorderen elke week een stukje dus langzaam maar zeker komt het einde in zicht, besloten we daarna even lekker van het zonnetje te gaan genieten in het parkje. Chasalin een biertje mee, ik een kop koffie en 2 katten mee.
Muis
Voor Muis was het een nieuwe ervaring om mee te lopen naar het parkje en daar alles te verkennen, ik had het idee dat ze zich erg vermaakt heeft, ze is in meerdere bomen geklommen, heeft achter een vlinder aangezeten samen met Noobie en voor de rest alle bosjes rondom het parkje verkent. Het was erg mooi om te zien hoe ze heel nieuwsgierig en voorzichtig alles afsnuffelde en bekeek om dan vervolgens opeens een spurt naar een boom te trekken en ergens 4 meter hoog die boom in te schieten. Vooral de blik in haar ogen vlak voor ze zo een spurt trok was een pracht gezicht. En chasalin en ik maar elke keer te laat met onze camera zijn om een mooie foto van Muis in de boom te maken, uiteindelijk zijn er toch nog een paar goeie foto's uit gekomen,
Schommelen, bloemen, katten en een gans
Natuurlijk kon ik het niet laten om me weer eens lekker uit te leven op de schommels. Terwijl ik aan het kijken was of ik nog lekker hoog kon komen met de schommel ontdekte chasalin een broedende gans. Hij heeft hier een paar mooie foto's van genomen. Ook heeft hij een aantal close-ups van bloemen en mijn katten genomen. De camera van zijn telefoon is best een goede is te zien, opvallend is wel dat zijn foto's niet half zo groot zijn als de mijne (qua harde schijf ruimte) dus ik vraag me af of dat een instelling is of een andere oorzaak heeft, als het goed is zijn beide camera's 8 megapixel.
Ik zelf heb overigens alleen maar foto's van de katten genomen. Aan het einde is chasalin dichterbij de gans gaan kijken en heeft toen de close-ups genomen terwijl ik de katten naar huis lokte zodat deze de gans niet zouden storen tijdens het broeden.
Al met al een zeer fijne en gedeeltelijk ook erg nuttige middag geweest. Today was a good day all in all, lang leve de lente!