Kindertjes
Submitted by

valheru

on Sun, 2014-09-14 15:02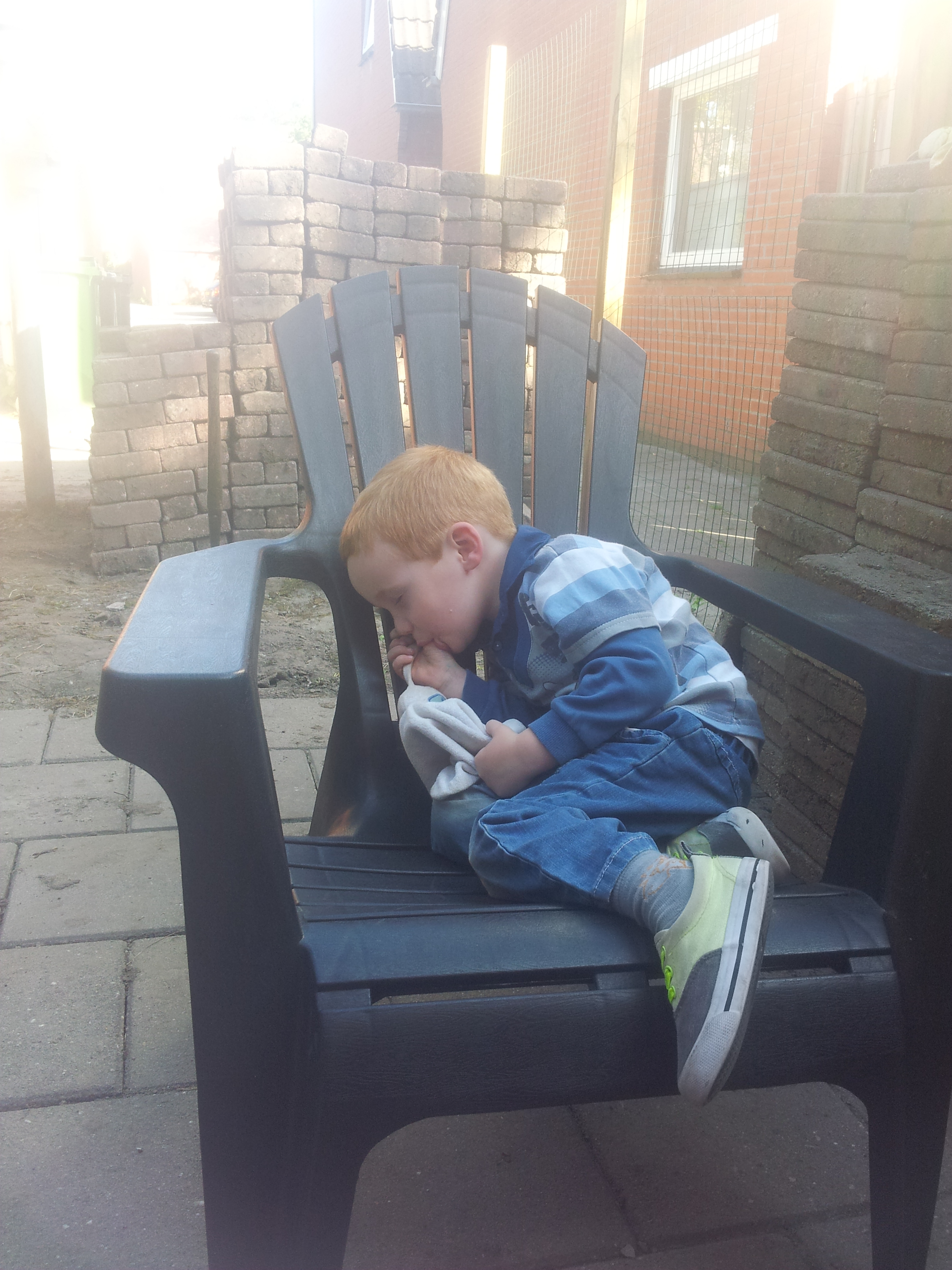 Afgelopen vrijdag was hier spontaan een kindertjes dag.
Donderdag avond heb ik met een van mijn buurvrouwen en haar kinderen gegeten, dit was erg gezellig, zo gezellig dat de volgende dag rond de lunch haar jongste hier opeens naar toe kwam en vroeg of hij hier mocht tekenen. Natuurlijk mocht dit, hij is lekker gaan tekenen terwijl hij tussen het werk in de tuin door van mij wat tips kreeg over hoe je met perspectief tekent. Ook heeft hij een paar draken getekend en mijn zwaarden geprobeerd na te tekenen. Na een tijdje tekenen wou hij mij en de (andere) buurvrouw helpen met de klinkertjes van de ene kant van de tuin naar de andere stapelen. Volgens mij vond hij het net zo leuk als ik om hier even te zijn. Na een tijdje moest hij weer weg voor zijn judo lessen, de buurvrouw ging rond dezelfde tijd weg.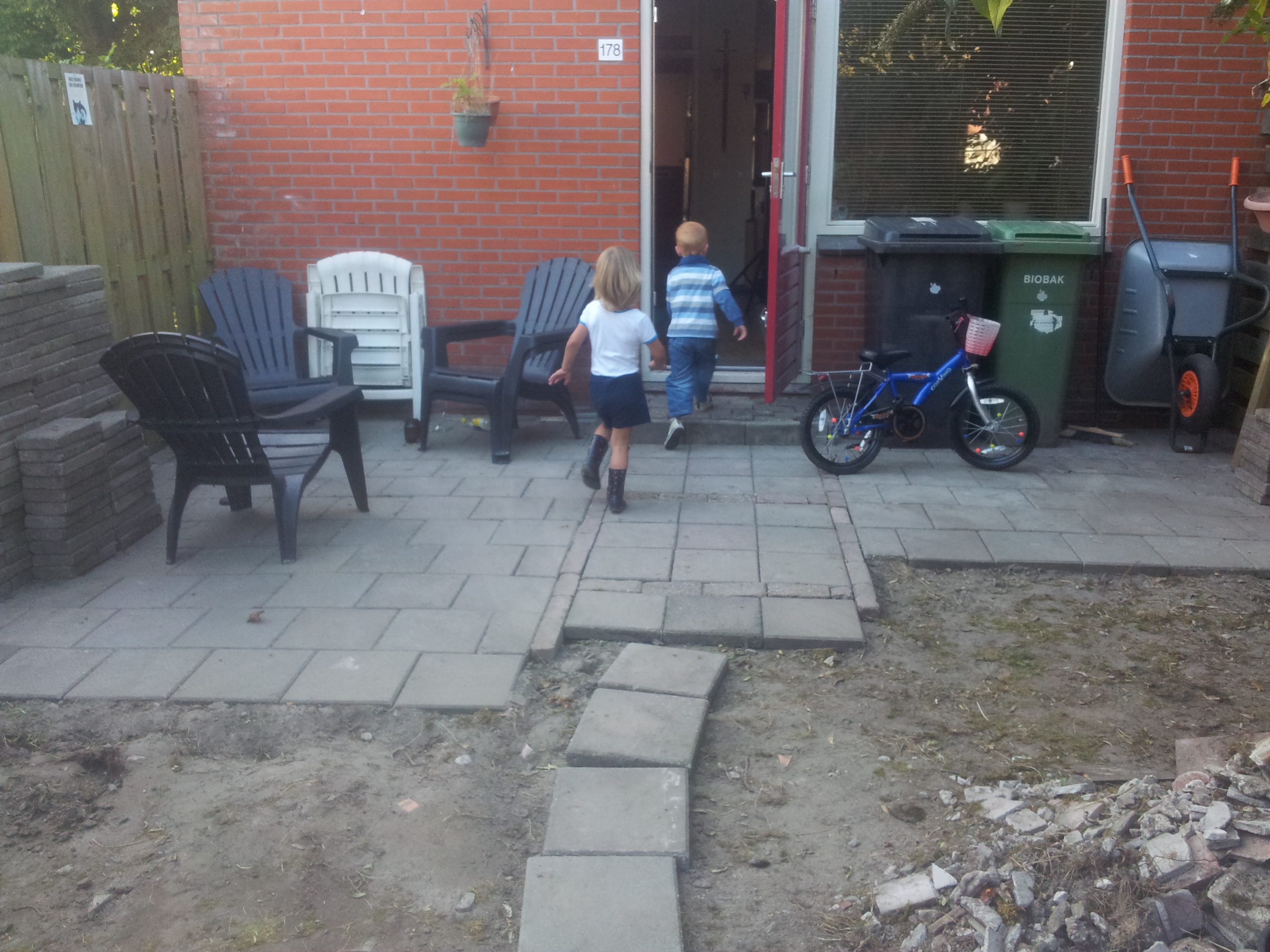 Hij was koud een paar minuten weg en toen kwam chasalin bij mij aan met zijn oudste die van de week 4 is geworden en vrijdag zijn 2-de schooldag had gehad. Aangezien chasalin nog boodschappen moest doen vroeg hij of ik even op Thijmen wou passen. Natuurlijk vond ik dit geen probleem dus is Thijmen lekker gaan spelen binnen terwijl ik verder ging met klinkertjes stapelen. Na een tijdje kwam er vrouw aan met haar zoontje die mij de weg vroeg. We raakte even aan de praat en haar zoontje zag Thijmen spelen en rende zo naar binnen om ook mee te gaan spelen. DHO was inmiddels aangekomen en was aan het koken voor het vrijdagavond eetclubje dus die heeft ze eerst even in de gaten gehouden terwijl ik met de vrouw in kwestie stond te praten. De vrouw vroeg of het erg was dat haar zoontje even bleef spelen terwijl zij naar het huis ging waar ze heen moest (een van mijn overburen). Natuurlijk vond ik dit geen bezwaar. De eerstvolgende 45 minuten heb ik dus 2 kindertjes van 4 jaar oud in de gaten gehouden en af en toe achteraan moeten rennen om te voorkomen dat ze naar het water in het parkje toe gingen of naar de oudere jongens die verderop aan het voetballen waren. Gek genoeg vind ik dit nog steeds leuk, denk dat ik toch mijn Welpenleiding tijd een beetje mis.
Natuurlijk heb ik wat foto's tussendoor genomen. Zoals te zien is was Thijmen in eerste instantie een beetje moe van zijn tweede schooldag. Dat waren natuurlijk heel veel indrukken voor hem.
Na het eten ben ik de kinderen van mijn buurvrouw nog erg blij gaan maken door hun mijn Lego te doneren. Ik had een curverbox vol met Lego wat hier maar stof stond te vangen. Mijn neefjes hadden hier niet zoveel iinteresse meer in en ik vond het wat zonde om het weg te laten stoffen. Omdat mijn Lego toch nog steeds veel voor mij betekent heb ik wel gevraagd of ze het weer terug willen geven als ze er op uitgekeken raken en het niet meer gebruiken. Dan kan ik tegen die tijd weer een ander kindje er blij mee maken hoop ik.